Dubai is not only a city of dreams but also a city of opportunities for healthcare professionals. With its thriving healthcare sector, competitive salaries, and exceptional quality of life, it's no wonder that many choose to pursue their career in Dubai. Whether you're a doctor, nurse, technician, or administrator, Dubai welcomes you to be a part of its vibrant healthcare community.
The healthcare industry in this bustling metropolis has been rapidly expanding, creating numerous career prospects for individuals in the medical field. In this comprehensive guide, we'll walk you through everything you need to know about pursuing medical and healthcare jobs in Dubai, UAE.
Why Consider Dubai for Medical and Healthcare Jobs?
Before we dive into the specifics, let's understand why Dubai is an enticing destination for healthcare domain and medical technicians
Flourishing Healthcare Industry: Uae's medical industry is experiencing rapid growth, thanks to continuous investments in cutting-edge medical facilities, state-of-the-art technology, and world-class healthcare services. This flourishing industry creates an ideal environment for professionals seeking career advancement with a lot of healthcare Jobs in UAE.
Diverse Healthcare Sector: The United Arab Emirates, particularly Dubai, boasts a diverse healthcare sector encompassing public and private hospitals, clinics, specialized centres, and more. This diversity means there are positions available for various specialities and interests.
Competitive Salaries: Dubai is renowned for offering highly competitive salaries for medical jobs. Ex-pat doctors, nurses, and technicians, for instance, can earn impressive remuneration packages, often surpassing those offered in many other countries.
International Opportunities: Dubai's cosmopolitan culture and diverse population create opportunities for professionals to work with people from all around the world. This international exposure can enhance your skills and broaden your horizons.
World-Class Healthcare Facilities: Dubai's commitment to providing top-notch healthcare services is reflected in its world-class facilities. From Dubai Healthcare City to public hospitals and private clinics, you'll find cutting-edge infrastructure and medical technology that rivals the best in the world.
Getting Started: Understanding Medical and Healthcare Systems to Work in the UAE
Let's explore the role of the Dubai Health Authority (DHA) and the healthcare landscape in the UAE, emphasizing the quality of healthcare industry and infrastructure
1. Regulating Excellence Through MOH, DHA and HAAD
Dubai Health Authority plays a vital role in overseeing healthcare standards in hospitals and the medical industry in Dubai. Its primary focus is to regulate and license healthcare professionals, facilities, and services, ensuring strict adherence to quality and safety standards. DHA exams, assessments and inspections ensure that healthcare providers in Dubai maintain international best practices, guaranteeing patients receive top-tier care.
Similarly, HAAD, the Health Authority Abu Dhabi, assumes a parallel role but concentrates on regulating healthcare in the emirate of Abu Dhabi. HAAD licenses healthcare workers and facilities to maintain consistently high standards and quality of care, encompassing the capital city and its surroundings.
For qualified healthcare workers looking to work in Sharjah, Ajman, Umm Al Quwain, Fujairah, and Ras Al Khaimah, the MOH License (Ministry of Health License) is essential. The lower cost of living in these northern emirates compared to Abu Dhabi and Dubai often makes this region a preferred choice for many.
Meanwhile, the DHCC License, provided by the Dubai Health Care City Authority, unlocks access to the world's largest healthcare-free zone, Offering cutting-edge facilities, a diverse talent pool, a strong focus on wellness, and a commitment to research and patient-centric care, it opens doors to a dynamic and innovative healthcare career.
2. Public and Private Healthcare Sectors: A Balancing Act
The United Arab Emirates boasts a well-developed healthcare system with both private and public hospitals offering a wide range of medical services. Here is an overview of different hospitals in the United Arab Emirates:
Public Hospitals:
Public hospitals are uae government funded and provide healthcare services to UAE nationals and expatriates. These hospitals are known for offering subsidized or free medical care to UAE citizens and residents. Some notable hospitals include:
Sheikh Khalifa Medical City (SKMC): SKMC is one of the largest and most prominent hospitals in the UAE. It offers a wide range of medical services, including specialized care and advanced treatments.
Dubai Hospital: It is a government-funded facility that provides comprehensive healthcare services.
Rashid Hospital: Rashid Hospital is another key healthcare facility. It offers specialized services and is a prominent teaching hospital.
Al Qassimi Hospital, Sharjah: Al Qassimi Hospital is a well-regarded hospital in Sharjah, providing various medical specialities, including emergency care and surgery.
Al Ain Hospital, Al Ain: Al Ain Hospital is a major healthcare institution in Al Ain, offering a wide range of medical services and quality healthcare to the community.
Private Hospitals:
Private clinics and hospitals in the UAE's medical industry are operated by private healthcare providers and cater to both residents and expatriates. These hospitals are known for their high-quality care, state-of-the-art facilities, and a wide range of specialized services. Some notable private hospitals include:
Cleveland Clinic Abu Dhabi: Cleveland Clinic is a prestigious private hospital known for its best healthcare services and medical expertise.
American Hospital: It is a leading private hospital with a strong reputation for providing excellent healthcare services.
Mediclinic City Hospital: Mediclinic City Hospital is part of the Mediclinic International network, offering a range of medical specialities and advanced treatments.
NMC Royal Hospital: NMC Royal Hospital is part of the NMC Healthcare group and provides comprehensive medical care, including specialized services. And rewarding opportunities in the uae for professionals looking for job
Burjeel Hospital, Abu Dhabi: Burjeel Hospital is known for its patient-centred approach and offers a wide array of medical services.
Zulekha Hospital: Zulekha Hospital are leading healthcare provider, offering a range of medical specialties.
These are just a few examples of medical centres of public and private hospitals in the UAE.
The Qualifications and Requirements Needed to Work in Healthcare Sector in Dubai, UAE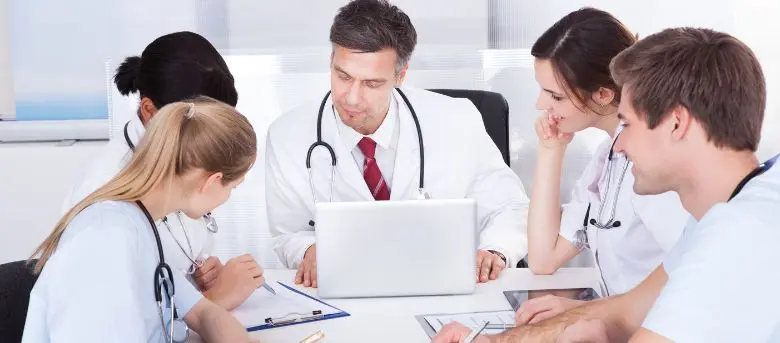 1. Education and Qualifications:
A bachelor's degree or higher in the relevant field of healthcare is usually required. For example, doctors must hold a medical degree, nurses should have a nursing degree, and pharmacists should possess a pharmacy degree. Degrees must be obtained from accredited institutions recognized by the UAE authorities. Qualifications obtained through honorary, correspondence, distance learning, or equivalency criteria are not counted.
2. Licensing and Registration:
Healthcare professionals must obtain the necessary medical license or registration to practice in the UAE. The specific licensing body can vary depending on the emirate in which you intend to work. For doctors, dentists, and pharmacists, the licensing authority is usually the relevant Health Authority or Health Regulatory Body. Nurses in the UAE are typically required to obtain a license from the respective nursing regulatory authority to become a registered nurse
3. Language Proficiency:
While English is widely spoken and accepted in Dubai, Arabic is the official language of the UAE. Individuals working in the medical sector are often required to have a basic understanding of Arabic, particularly for patient interactions and administrative tasks. If you're planning to work in the UAE's medical sector, consider enrolling in professional OET (Occupational English Test) training centres. These centres can assist you in enhancing your language skills and enhance your prospects of securing a job.
4. Continuing Education:
To maintain and renew their licenses, medical professionals may need to participate in Continuous Professional Development (CPD) activities. CPD ensures that healthcare practitioners stay updated with the latest medical advancements and best practices.
5. Experience and Internship:
A minimum of two years of experience is necessary. Physicians and dentists are required to complete a one-year internship post-graduation.
Nurses, midwives, and allied healthcare workers may have different requirements based on nationality and university of graduation.
Experience must be relevant to the title applied for and hands-on clinical experience. For every two doctors employed, the facility must have a registered nurse. Physicians and dentists in surgical specialities must provide a logbook with procedures/cases related to their specialities.
6. Examinations and Assessments:
Healthcare professionals are required to pass the UAE Authority's examination for licensure, with exemptions for UAE nationals and Children of Emirati Women. The examination mode depends on the healthcare professional's title and may include written, oral, or Objective Structured Clinical Examination (OSCE). There are specific rules regarding language, content, and attempts for the examination.
All examinations are conducted exclusively in English, and no translators are permitted during oral examinations.
The oral examination consists of a minimum of five distinct scenarios or questions related to the speciality, as determined by the examining panel.
Applicants are allowed up to three attempts to pass the examination across the Authorities.
If an applicant fails three attempts with one Authority, they may be granted one final attempt with a different Authority.
Applicants are required to declare the number of examination attempts they have undertaken across various Authorities.
7. Good Standing Certificate:
Individuals seeking employment in the UAE's healthcare, hospitals and medical sector are typically mandated to furnish a Good Standing Certificate or Certificate of Good Moral Character from their former employer or licensing authority. This certificate should not be more than six months old and should confirm the minimum necessary experience.
8. Background Checks:
Primary Source Verification (PSV) Documents required for licensing are verified directly from the original or primary source.
9. Health Screening:
Healthcare professionals may need to undergo health screenings and provide medical certificates to ensure they are fit to practice, If the applicant is 60 years of age or older, they must obtain a certificate of functional fitness from the Department of Preventive Medicine.
10 Discontinuity of Practice (Gap of Practice):
Assessment certificates remain valid for a duration of five years, as long as there is no gap in the work record exceeding two years. Healthcare professionals with a gap in clinical practice exceeding two years must fulfil Continuing Medical Education /Continuing Professional Development (CME/CPD) requirements.
CME/CPD credits must be relevant to their practice speciality.
A clinical training program accredited by the Regulatory Authority is required.
Non-UAE Nationals may not be able to apply for a license if their gap in practice exceeds five years.
UAE nationals with a gap due to mandatory National service are not considered to have a gap of practice.
It's essential for healthcare professionals considering a career in the UAE to research and understand the specific requirements for their profession and emirate of choice, as these requirements can vary slightly. Additionally, the regulatory bodies in the UAE may periodically update their requirements, so staying informed is crucial when considering a career in healthcare in the UAE.
Eligibility for Obtaining a DHA License in Dubai and the Application Process
Registration with Dubai Health Authority confirms that healthcare professional meets the criteria for their chosen position, including category, title, and speciality. This registration is valid for one year, and it is the responsibility of a healthcare facility to activate it into a full license, allowing the professional to commence clinical practice. By maintaining an active registration, the approved position is secured without the need for re-assessment, provided there is no gap in practice. Additionally, registered professionals are listed in the Dubai Medical Registry, further validating their qualifications and eligibility.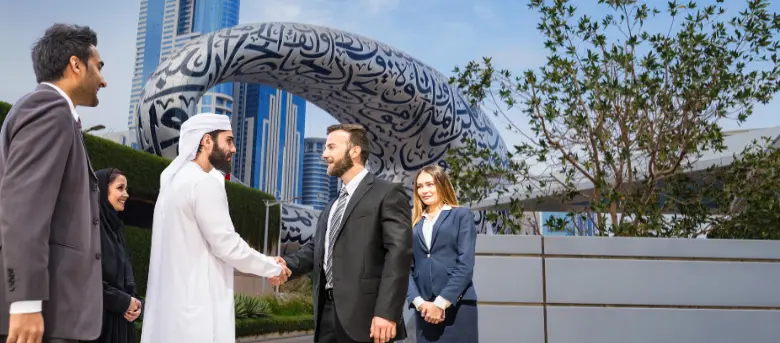 Who is Eligible to obtain a DHA License
Eligible individuals, such as healthcare practitioners and professionals in various fields, who have not completed their registration with the Dubai Health Authority (DHA) can apply for a DHA license in Dubai. such as
Physicians:
Physicians are medical doctors who diagnose and treat illnesses, injuries, and medical conditions. They may specialize in various fields such as internal medicine, surgery, paediatrics, or cardiology, among others.
Dentists:
Dentists specialize in oral health and provide dental care services, including examinations, cleanings, fillings, extractions, and other treatments for dental issues. They focus on the health of teeth, gums, and the mouth.
Allied Healthcare Professionals:
Allied professionals encompass a broad range of specialists who support medical teams in various capacities. This category includes professions like physical therapists, occupational therapists, radiology technicians, and medical laboratory technologists, among others.
Nurses/Midwives:
Nurses and midwives are crucial members of the healthcare team. They provide direct patient care, administer medications, assist in medical procedures, and offer support during childbirth and prenatal care in the case of midwives.
Traditional & Complementary & Alternative Medicine Practitioners:
These practitioners offer healthcare services that fall outside the conventional Western medicine paradigm. They may include traditional herbalists, acupuncturists, chiropractors, and practitioners of alternative therapies like homoeopathy and naturopathy.
Application Process and examination details to obtain a license
DHA examinations are conducted by the Dubai Health Authority and serve as essential assessments for healthcare professionals aspiring to practice in Dubai. These exams are a critical step in obtaining the necessary licenses to work in the healthcare sector. The examination categories encompass the DHA Licensing Exam, the Prometric CBT (Computer-Based Test), and the DHA Oral Assessment.
Step 1: Begin with the Self-Assessment Tool
The first step towards your DHA license application in Dubai is to perform a self-assessment:
Visit the Sheryan self-assessment portal via the official DHA website.
Respond to the self-assessment queries.
Log in or create a DHA account to access your results.
If Requirements Were Not Met or Not Satisfied with the Self-Assessment Tool Outcome:
If the initial self-assessment results indicate that the necessary requirements have not been met or if you find yourself dissatisfied with the outcome, don't be discouraged, you can opt for a Manual Review of your profile:
If Requirements Were Met:
On the other hand, if your self-assessment reveals that you meet the prerequisites for your desired position, you can move forward to the next stages of the process:
Primary Source Verification by DataFlow: This step involves the thorough verification of your educational and professional credentials to ensure their authenticity and compliance with DHA standards.
CBT Assessment (If Required) by Prometric: Certain healthcare professionals, such as doctors, dentists, and nurses, may be required to undergo a Computer-Based Test (CBT) assessment. Prometric administers this examination to assess applicants' knowledge and skills.
Review Registration Eligibility: A comprehensive review will be conducted to confirm your eligibility for registration based on the information and results obtained in the previous steps.
Step 2: Get Registered
Once you have successfully completed the self-assessment and any necessary verifications or assessments, you can proceed with the registration process. Schedule Oral Assessment (If Required): Depending on your specific healthcare profession and position, the DHA may require you to undergo an oral assessment as part of the registration process. Be prepared to schedule and complete this assessment if it applies to your situation.
Step 3: Activate Professional License
After completing all the required assessments and verifications, you will be on your way to obtaining your professional license. This final step involves activating your license to officially practice in your chosen healthcare field within Dubai. It's the culmination of your efforts, demonstrating your eligibility and competence to serve the healthcare needs of the community.
Required Documents
Ensure you have the following documents ready for your DHA license application:
A recent passport-size photograph with a white background.
A copy of your passport.
For surgical specialities, a logbook documenting relevant surgical experience is mandatory.
These documents are essential for the verification and assessment processes during your DHA license application in Dubai. For more details kindly visit dha.gov.ae
Salary and Benefits for Healthcare Jobs in Dubai
The average Salary of ex-pat doctors and different medical professionals in various job positions can vary significantly based on factors such as location, industry, experience, and qualifications. Below are some healthcare jobs in the uae, along with a general overview of the salary range and potential benefits associated with each position. Please note that these figures are approximate and can vary over time and based on specific circumstances.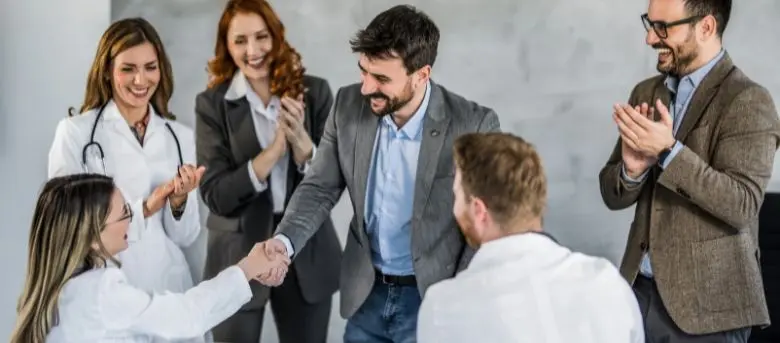 Physician (General Practitioner or Specialist):
Salary Range: AED 150,000 to 600,000 or more annually.
Benefits: Healthcare coverage, malpractice insurance, paid time off, pension plans, and potential bonuses.
Nurse (Registered Nurse or Nurse Practitioner):
Salary Range: AED 60,000 to 120,000 per year.
Benefits: Medical insurance, paid leave, professional development opportunities, and shift differentials for specific roles.
Dentist:
Salary Range: AED 120,000 to 300,000 or higher annually.
Benefits: Health insurance, dental care, retirement plans, and potential for profit-sharing.
Allied Healthcare Professional (e.g., Physical Therapist, Occupational Therapist):
Salary Range: AED 70,000 to 150,000 per year.
Benefits: Health coverage, continuing education opportunities, and sometimes housing or relocation allowances.
Medical Laboratory Technician:
Salary Range: AED 45,000 to 90,000 annually.
Benefits: Health benefits, paid vacation, and opportunities for professional growth.
Pharmacist:
Salary Range: AED 80,000 to 160,000 or more per year.
Benefits: Medical insurance, retirement plans, and potential performance-based incentives.
Medical Receptionist/Administrator:
Salary Range: AED 35,000 to 75,000 annually.
Benefits: Health coverage, paid holidays, and sometimes transportation allowances.
Healthcare Manager or Administrator:
Salary Range: AED 120,000 to 400,000 or higher per year.
Benefits: Health insurance, retirement plans, bonuses based on performance, and potential for career advancement.
Medical Sales Representative:
Salary Range: AED 60,000 to 150,000 per year.
Benefits: Commission or bonus structure, health insurance, and allowances for travel and expenses.
Radiologic Technologist:
Salary Range: AED 60,000 to 120,000 annually.
Benefits: Medical coverage, paid time off, and potential for continuing education support.
Please keep in mind that these salary ranges and benefits are approximate and can vary widely based on factors like years of experience, specific employers, and market demand for each profession. It's advisable to research and negotiate your salary and benefits package based on your individual circumstances and job market conditions.
Navigating the Job Market in Dubai's Healthcare Industry
When searching for healthcare job opportunities in Dubai, consider various avenues:
Healthcare Recruitment Agencies in Dubai: Recruitment consultancy, like Michael Page, specializes in connecting healthcare professionals with suitable employers. They can help streamline your job search and offer guidance on the application process.
Online Job Portals: Numerous online job portals like jobs-in-dubai.com, Naukri Gulf, and byat.com have the latest healthcare job vacancies in Dubai. These platforms allow you to filter job listings based on your qualifications and preferences.
Direct Applications: If you have a specific healthcare facility in mind, you can apply directly through their website or contact their human resources department for job openings.
Networking: Building a professional network in the healthcare sector can also be beneficial. Attend industry events, and conferences, and join relevant online forums or social media groups.
Conclusion
In conclusion, places like Dubai are a melting pot of cultures and nationalities, and this diversity extends to its healthcare workforce. It offers a world of opportunities for ex-pat doctors in the uae and Dubai's healthcare system. The thriving healthcare industry, competitive salaries, and diverse culture make it an attractive destination for those seeking international experience and career growth.
Whether you are a medical professional with years of experience or a recent graduate with a passion for healthcare, the good news is that the healthcare sector in Dubai has something to offer you. Take the first step towards your dream career in one of the most dynamic cities in the world.
Remember, the world of healthcare jobs is waiting for you to unlock its endless possibilities. Start your journey today and embark on a rewarding career in this thriving healthcare sector. All the Best!