Dubai is one of the vibrant and thriving cities in the United Arab Emirates that offers fantastic teaching opportunities in Dubai for teachers from all over the world who are interested in teaching abroad. Teaching jobs in UAE are highly sought-after, and for good reason – they offer an excellent salary, amazing benefits, and a chance to experience life in one of the most exciting and dynamic cities in the world.
If you're considering teaching in UAE, you've come to the right place. This ultimate guide to teaching jobs in Dubai and Uae will provide you with everything you need to know about finding a teacher's job in Dubai, obtaining a visa, and starting your new teaching career in the UAE. We'll cover all the essential topics, from the types of teaching jobs available to the requirements to teach in Dubai, and answer all the frequently asked questions about teaching in this incredible city.
Whether you're a seasoned teacher looking for a new adventure or a recent graduate new to teaching with a passion for teaching, this guide to teaching jobs in Dubai will help you get started on your journey. So, let's dive in and explore everything you need to know about teaching in Dubai!
I. Teaching jobs in the UAE: Overview of teaching qualifications, requirements, and visa documents
A. What are the eligibility criteria and qualifications for teachers looking to teach in Dubai?
If you are considering to start teaching abroad and making a teaching career in the UAE, there are certain qualifications and requirements that you must meet for teaching jobs abroad
Here's a list of the qualifications required to teach in Dubai schools
1. Bachelor's degree: The most basic thing you may need is a minimum of a bachelor's degree or a 4-year university degree in the relevant field. This applies to teaching in public schools and private schools in the UAE.
2. Criminal clearance record: A criminal clearance record is one of the conditions to become a teacher in Dubai. It confirms that the applicant has no criminal record and is deemed fit to work with students. This clearance record is obtained from the applicant's home country or any country they have previously lived in for more than six months. The UAE government will then conduct further checks to ensure the authenticity of the clearance record.
3. Medical fitness report from the UAE: A medical fitness report from the UAE is one of the requirements. This report certifies that the applicant is in good physical health and free from any contagious diseases. The report must be issued by a UAE-based medical centre or hospital authorized by the Dubai Health Authority (DHA). The applicant needs to undergo medical examinations including blood tests, chest x-ray, and other diagnostic tests. The medical fitness report must be submitted along with other documents to the Ministry of Education or the Knowledge and Human Development Authority (KHDA) for approval.
4. Original educational certificates: Original educational certificates refer to the official documents that prove an individual's academic qualifications, such as degrees, diplomas, or certificates. These documents are required to be submitted during the application process to teach in Dubai. The certificates must be original copies and not photocopies, and they must be issued by a recognized educational institution. Attested certificates are required if the educator has graduated from a university outside the UAE. The certificate must be attested by the Ministry of Foreign Affairs and International Cooperation and the country's embassy in the UAE.
5. Teaching experience: Having at least 2 to 3 years of previous teaching experience is also a common requirement who would like to teach in Dubai. This is to ensure that the applicant has a solid background in teaching and can handle the challenges of working in a new environment. To work as a full-time teacher in Dubai, experience is required. You must have a certain number of teaching hours to be eligible for a teaching license, which varies by country. experience. Overall, having teaching experience is highly valued by schools and can increase the chances of getting hired.
B. Teaching License for teachers looking for teaching jobs
The UAE has implemented a licensing system for education professionals, making it mandatory for teachers to hold a teacher's license to work legally in the country. This license is obtained by passing the tests designed for each targeted category in the education sector. If an applicant fails to meet the exam criteria, customized training courses are introduced to help them achieve the required outcome. Applicants have three chances to apply for the license, and if they fail all three times, they can retake the test after a six-month period. During this time, they can benefit from the training programs offered by the licensing system to ensure they pass the required assessments. To apply for an education professional license, one can apply for a transitional license or recognition of an international license. There are various resources available to help education professionals obtain their licenses.
Find out services to apply for an education professional license
Apply for a transitional license – Visit moe.gov.ae official website
Recognition of international license – Find our resources about obtaining an education professional license.
C. Criteria for teachers in Dubai's private schools by KHDA
KHDA aims to enhance the standard of private education in Dubai by setting quality standards for teachers. Appropriate qualifications are mandatory for teachers seeking an Initial Appointment, which authorizes them to teach in a school. However, KHDA's support for teachers doesn't end there. The organization remains committed to improving teaching and learning quality by assisting teachers in meeting the standards required for KHDA teacher registration on the Educator Permit System.
Private schools apply for an Initial Appointment for new teachers to obtain a work permit.
Class teachers require a recognized Bachelor's degree in Education (B.Ed), a postgraduate certificate/diploma in education, or a Master's degree in Education (M.Ed) to be eligible for the Initial Appointment.
Subject teachers require a minimum of a recognized Bachelor's degree relevant to the subject being taught.
After receiving their Initial Appointment, teachers must register on the Educator Permit System.
Registration is mandatory for all teachers in Dubai's private schools.
The system tracks and maintains records of teachers' qualifications, experience, and compliance with KHDA's standards for teaching and learning.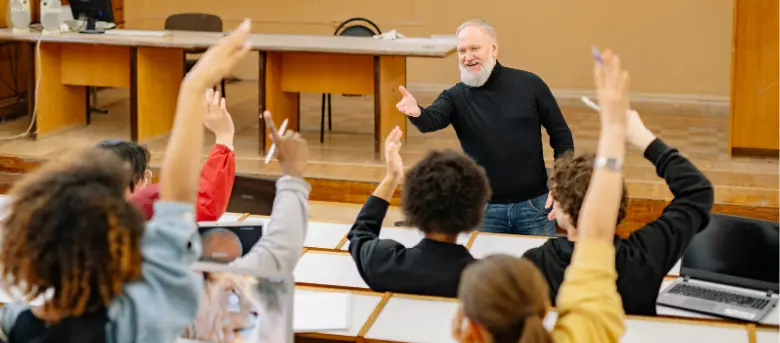 Here is a list of the requirements a teacher must meet to complete the registration on the Educator Permit System:
Subject Qualification: For teacher registration on the Educator Permit System in Dubai, the subject qualification requirement is the same as that for the Initial Appointment.
A class teacher must have a recognized Bachelor's degree in Education (B.Ed), postgraduate certificate/diploma in education, or Master's degree in Education (M.Ed).
A subject teacher must have at least a recognized Bachelor's degree that is relevant to the subject they will be teaching to apply for opportunities to teach other subjects
Teacher Preparation Qualification for Subject Teachers: To be registered on the Educator Permit System, a teacher in Dubai must have a recognized teacher preparation qualification at the level of a higher diploma or above. This qualification should cover topics such as educational pedagogy, curriculum development and design, learning assessment, classroom management, educational technology, psychology (cognitive, social, and physical development), and teaching practice.
For those teaching English Language as a subject, a qualification in teaching English as a second or foreign language (such as CELTA, DELTA, or TESOL) is also required. The KHDA accepts teacher preparation qualifications from recognized international branch campus universities approved by KHDA, recognized national universities approved by the UAE Ministry of Education, recognized international universities/institutions approved in the home country, and KHDA-approved training providers of teacher preparation qualifications. A list of approved providers is available on their website.
Additional Qualification Requirements: To teach a vocational education program, a teacher must hold a recognized assessor or verifier qualification.
Language Proficiency: For teaching the English language as a subject, a teacher must have an IELTS Band Score of at least 7 or equivalent. If using English as the language of instruction, the minimum requirement is an IELTS Band Score of at least 6 or equivalent. For teaching a language other than English, the teacher must provide evidence of language proficiency as specified by relevant authorities and curricula
Legal Status: To be registered on the Educator Permit System, a teacher at a private school must have a valid UAE residence visa and a school contract or employment agreement.
Fitness to Teach: Teachers are required to declare their fitness to practice in the teaching profession.
Good Standing: To register on the Educator Permit System, a teacher must possess a UAE police clearance certificate and a letter of good standing from their school. Moreover, if the teacher has not continuously resided in the UAE for at least five years since arrival, they must provide a police clearance certificate from each country of residence over the last five years.
Mandatory Professional Development: To maintain their registration, a teacher must complete a set of mandatory professional development courses provided by KHDA-approved training providers. These courses include
Child Protection and Safeguarding
Dealing with People of Determination
Diversity
Moral Education
Sustainability
Wellbeing
These courses must be taken with KHDA-approved training providers and will be reviewed and updated periodically to align with the current strategies and priorities of Dubai.
D. Visa requirements and documents required for teachers in Dubai
If you wish to teach as a teacher in Dubai, you'll need a work visa, which is sponsored by your employer, usually, the school or institution where you'll be teaching. The visa application process can be lengthy and involves several steps
Here's a list of visa requirements and documents for teachers in Dubai:
Valid passport with a minimum of six months validity
Recent passport-sized photographs with white background
Original educational certificates that are attested by the Ministry of Foreign Affairs and International Cooperation and the country's embassy in the UAE.
Medical fitness certificate issued by a UAE-approved medical centre
Copy of the employment contract
Police clearance certificate from home country and the UAE, if applicable
Once your visa application is submitted, it can take several weeks to several months for approval, depending on the specific circumstances of your application. It's important to work closely with your employer and follow all necessary steps to ensure a smooth visa application process.
II. Types of Teaching Jobs in different schools in Dubai
Dubai offers a variety of jobs in both public and private schools. Public schools are governed by the Ministry of Education and require a bachelor's degree and teaching certificate. Private schools have a wider range of teaching opportunities, including international curriculums such as IB and British. Private schools also tend to offer more competitive salaries and benefits. Some of the most popular teaching jobs for institutions in Dubai include schools teaching English, STEM subjects, and Arabic. With the high demand for teachers, there are plenty of opportunities for those looking to start or advance their careers in Dubai's dynamic education sector.
Here's a brief explanation of the different types of jobs in Dubai:
Public schools in Dubai: Public schools in the UAE are government-run schools that follow the UAE's Ministry of Education curriculum. Public school teachers typically need to be certified and licensed in their home country and have at least two years of teaching experience.
Private schools in Dubai: These are privately owned and operated schools that follow various curricula, such as the British, American, or International Baccalaureate (IB) curriculum. Private schools often require their teachers to have teaching certifications and experience, but the specific requirements vary by school.
Language schools in Dubai: These schools focus on teaching English or other languages to non-native speakers. Language school teachers typically need a teaching certification, a bachelor's degree, and experience teaching English as a foreign language (EFL) or English as a second language (ESL).
III. Finding a Teaching Job in Dubai
A. How to find teaching opportunities in Dubai
There are various sources to find teaching jobs in Dubai. These include
Online job portals – Websites like Jobs in Dubai, GulfTalent, Bayt, and Naukrigulf have job listings for teaching positions in Dubai where you can apply to get a teaching job.
Social media – Many schools and recruitment agencies post job openings on their social media accounts, such as LinkedIn, Facebook, and Twitter.
School websites – Check the career section of individual school websites to see if they have any job openings.
Recruitment agencies – There are many recruitment agencies in Dubai that specialize in placing teachers in schools, such as Seek Teachers and Teachanywhere.
Job fairs – Attend job fairs in Dubai, such as the Education and Training Exhibition, to meet with school representatives and learn about job openings.
Networking – Reach out to your network of colleagues and acquaintances in the education industry to see if they know of any job openings in Dubai.
B. Tips for applying to teaching opportunities
When it comes to applying for teaching opportunities, there are a few things to keep in mind. Here are some tips for teachers interested in teaching
Research the school: Before applying, do some research on the school and its values, teaching methods, and curriculum.
Meet the requirements: Make sure you have the necessary qualifications and experience required for the teaching position you are applying for.
Customize your resume and cover letter: Tailor your resume and cover letter to the specific job and school you are applying to.
Apply online: Many schools in Dubai post job openings on their websites or on job search websites. Be sure to follow the application instructions carefully.
Be prepared for an interview: If you are selected for an interview, be prepared to discuss your qualifications, teaching experience, and approach to education.
Understand the visa process: Be familiar with the visa process and requirements for teaching in Dubai, as this will be an important consideration for potential employers.
Network: Attend education conferences or events in Dubai to meet educators and potential employers in person.
C. Interview process and what to expect
The interview process for teachers in Dubai may differ based on the educational institution or entity. For public and private schools, the process usually includes multiple rounds of interviews with various members of the administration and faculty, as well as a demonstration of teaching skills. International schools often conduct interviews over the phone or through video conferencing, with some schools requiring a teaching demonstration as well.
During the interview, expect to be asked about your teaching philosophy, classroom management style, and experience working with students from diverse backgrounds. It's important to highlight your qualifications, experience, and enthusiasm for teaching. You may also be asked to provide references, transcripts, and teaching certifications.
Overall, the interview process can be competitive, but with the right preparation, you can impress potential employers and secure a rewarding teaching job
IV. Salary and Benefits for Teachers in Dubai
A. Average salary range for Educators jobs in Dubai
The average salary in Dubai is around 9,000 AED to 20,000 AED per month. However, this can vary based on factors such as the type of school, the teacher's qualifications and experience, and the subject being taught. Salaries for international schools and private schools are usually higher than those for public schools. Additionally, teachers with advanced degrees and certifications may receive higher salaries. Overall, teaching in Dubai can be a lucrative opportunity for educators looking to gain international experience and earn a competitive salary
B. Benefits packages for teachers are
Many employers in Dubai offer enticing benefits packages for educators. Some of the benefits that teachers can expect include
Tax-free salary
Health insurance
Annual airfare allowance
Paid accommodation or accommodation allowance
End-of-service gratuity
Visa sponsorship
Paid sick leave and vacation time
Professional development opportunities
Tuition fee discounts for dependents
Transportation allowance
It's important to note that the specific benefits package may vary depending on the employer and the individual's qualifications and experience. Although the expenses of living in Dubai are relatively high, working as an educator in the city provides advantageous compensation packages, making it a valuable and satisfying opportunity.
V. Certificates to teach English in Dubai and Teaching training programs
There are several teaching training programs available in Abu Dhabi and Dubai that can help individuals enhance their teaching skills and improve their chances of securing a job in the UAE. These programs range from short-term courses to full-fledged degree programs, catering to the diverse needs of aspiring and practising teachers. Many schools in Dubai prefer candidates with additional training and certifications beyond the minimum requirements. Some are the certificates and courses that may keep you ahead of others in your job search are:
A. Certification to teach English in Dubai
1. TEFL (Teaching English as a Foreign Language):
TEFL is a certification program that equips individuals with the skills and knowledge eligible to teach English to non-native speakers. It typically covers topics such as teaching methodologies, lesson planning, and classroom management. TEFL courses can range from 120-150 hours and can be taken online or in person. Some programs also offer specialized training in teaching young learners or business English. A TEFL certificate is an internationally recognized qualification and is a popular choice for those interested in teaching English abroad.
2. TESOL (Teaching English to Speakers of Other Languages):
TESOL is a broader certification program that covers the teaching of English to speakers of all languages, not just native English speakers. TESOL programs are often longer than TEFL programs and include more in-depth instruction on linguistics and language acquisition. TESOL courses may also include modules on teaching different age groups and teaching in different contexts such as business or academic settings. TESOL is an internationally recognized qualification that provides individuals with a range of career opportunities in teaching English both domestically and abroad.
3. CELTA (Certificate in Teaching English to Speakers of Other Languages):
CELTA is a certification program developed by Cambridge University that provides individuals with comprehensive training for teaching English to non-native speakers. It is a rigorous and intensive program that includes classroom observation and practice teaching. CELTA covers teaching methodologies, lesson planning, classroom management, and linguistics. CELTA is widely recognized and respected by employers around the world and is often a requirement for teaching positions at reputable language schools and universities. CELTA is considered to be one of the most prestigious certifications in the field of English language teaching.
These are some of the popular courses you may require for English teaching jobs in Dubai. With these courses, you will have higher chances of getting hired for a job from many English teaching jobs available in the UAE
B. Course required to be an early childhood school teacher
Here are brief explanations of five early childhood courses and teaching programs available in the UAE:
CACHE Diploma in Childcare and Education: This course is designed for individuals who wish to work in early years education and care. It covers topics such as child development, health and safety, and early years education.
Early Childhood Education Certificate Program: This program is offered by the American University in Dubai and covers a range of topics related to early childhood education, such as child development, curriculum design, and classroom management.
Montessori Teacher Education Program: This program is designed for individuals who wish to become Montessori teachers. It covers Montessori philosophy, child development, and curriculum design.
Special Education Needs (SEN) Courses: These courses are designed for individuals who wish to work with children with special needs. They cover topics such as autism, learning disabilities, and behavioural disorders.
Dubai Child Psychology Diploma: This diploma program covers a range of topics related to child psychology, such as cognitive development, emotional development, and behavioural psychology. It is designed for individuals who wish to work in child psychology or related fields.
FAQs on Ultimate Guide to Teach in Dubai
1. Do I need a license to teach in UAE?
Yes, in order to teach in the United Arab Emirates, individuals are required to obtain a teaching license. The Ministry of Education oversees the licensing process, which requires individuals to hold a degree in education or a related field, as well as have teaching experience. The license is necessary for both public and private schools. Without a valid teaching license, individuals cannot work as a teacher in the UAE. It is important to research the specific requirements and application process for obtaining a teaching license in the UAE.
2. Can I teach English in Dubai without a degree?
It is possible to teach English, for a teaching job in Dubai without a degree, but it may be difficult to find a job without one. The most commonly required qualification for teaching English in the United Arab Emirates is a bachelor's degree in any field, along with a teaching certification like TEFL or TESOL. However, some private language schools and smaller institutions may be more flexible in their requirements and may accept candidates without a degree as long as they have relevant experience and certifications. It is always recommended to check with individual schools or recruiters for their specific requirements.
3. Do I need to know Arabic to teach English in Dubai, UAE?
No, it is not necessary to know Arabic for teachers who want to teach English in Dubai, UAE. In fact, many schools and language institutes prefer native English teachers so that they can speak only English in the classroom, as it helps to immerse students in the language and provides a more comprehensive learning experience. However, having a basic understanding of Arabic may be helpful outside of the classroom when communicating with locals or navigating the city, but it is not a requirement for English teaching.
4. Teaching in Dubai salary: How much can I earn?
Teaching in Dubai offers competitive salaries, with some of the highest-paying schools in the world located in the city. Salaries vary based on experience, qualifications, and the type of school. Generally, teachers with a Bachelor's degree and a teaching certification can earn between 9,000 to 15,000 AED ($2,500 to $4,100) per month. Meanwhile, teachers with a Master's degree and several years of experience can earn up to 24,000 AED ($6,500) per month. Some schools also offer additional benefits, such as housing allowances and health insurance.
5. Is it Safe to Teach in the UAE?
Teaching in the UAE is considered safe for expatriate teachers. The government takes the security of teachers seriously, and schools often adhere to strict safety protocols. Additionally, the UAE has a low crime rate and is considered one of the safest countries in the world. However, as with any foreign country, it's important that teachers exercise caution and follow local customs and laws. Overall, teaching in the UAE is a rewarding experience with a high standard of living and excellent opportunities for career growth.
Conclusion for the ultimate guide to finding teaching jobs
In summary, pursuing a teaching career in Dubai can be a rewarding and exciting experience. With a thriving education system and a growing demand for qualified teachers, there are numerous opportunities available for those with the right qualifications and experience.
Dubai offers a wealth of opportunities for educators seeking to pursue a teaching career in an international setting. The city is home to a diverse student population and a thriving education sector, with many schools and universities seeking qualified teachers from around the world. Prospective teachers should obtain the necessary certifications and experience, as well as familiarize themselves with the local culture and expectations.
Professional development opportunities are also readily available to educators in Dubai. Despite the challenges of adapting to a new environment, teaching in Dubai can be a rewarding and enriching experience for those who are passionate about education and committed to making a positive impact on students' lives.