Are you passionate about nursing and looking for an opportunity in Dubai? Dubai, known for its vibrant economy and thriving healthcare sector, presents an abundance of nurse job openings. The high demand for skilled nursing professionals makes it an ideal destination to kickstart or advance your nursing career.
Whether you are a registered nurse seeking new opportunities or a nursing graduate aspiring to work in a dynamic environment, Dubai offers an excellent platform to showcase your expertise. In this comprehensive guide, we will delve into the significance of nurse Jobs in Dubai and provide an overview of the nursing profession in the UAE.
Overview of the Nurse Jobs in Dubai
The nursing profession in Dubai is a vital and growing field, playing a crucial role in the city's healthcare system. Nurses are the backbone of patient care, providing compassionate support, and ensuring the well-being of individuals and communities.
Dubai provides a wide range of nurse job vacancies in various healthcare settings, including hospitals, clinics, and specialized healthcare centres. From staff nurses to specialized nursing, there are diverse roles to suit your skills and aspirations.
The demand for nurses in Dubai is consistently high, driven by the rapid growth of the healthcare sector. Vacancies arise regularly, allowing you to secure the best nursing job. However, it's essential to meet the eligibility criteria and possess the necessary qualifications. The Dubai Health Authority plays a crucial role in ensuring the quality and competence of nursing professionals in the city.
A. Dubai Health Authority(DHA): Understanding the Healthcare Sector
The Dubai Health Authority (DHA) is the governing body responsible for overseeing the healthcare sector in Dubai, United Arab Emirates. It plays a crucial role in ensuring the provision of high-quality healthcare services to residents and visitors.
For nurses aspiring to work in Dubai, there are eligibility criteria and requirements. These criteria include educational qualifications, licensing, language proficiency, and relevant experience. Nurses must meet these criteria which allows them to practice nursing in Dubai.
The DHA's primary focus is on promoting excellence in healthcare by regulating healthcare providers and facilities. It sets and enforces standards and guidelines to ensure the delivery of safe and effective healthcare services. It also plays an active role in promoting public health and preventive care initiatives to enhance the well-being of the community.
With a strong emphasis on continuous improvement and innovation, it has contributed to the growth and development of Dubai's healthcare sector. It has established Dubai as a leading destination for healthcare, attracting skilled nurses from around the world.
Working under the regulatory framework of the DHA provides nurses with a structured and supportive environment for professional growth and development. The authority ensures that nurses have access to ample job opportunities, competitive salaries, and a high standard of living in Dubai.
DHA is instrumental in maintaining and improving the healthcare standards in Dubai. Its criteria and regulations for nursing professionals ensure the delivery of quality care, making Dubai an attractive destination for nurses seeking an exciting and rewarding career in the healthcare sector.
B. Different Types of Specialist Nurses in Dubai
The nursing profession in Dubai encompasses various specialities and roles that contribute to the delivery of quality healthcare services. Here is an overview of some key nursing specialities and their importance in Dubai:
Neonatal Nurse
A Neonatal Nurse specializes in providing intensive care to newborn infants, particularly those who are premature or critically ill. They work closely with a multidisciplinary team, monitoring vital signs, administering medications, and providing specialized care to promote the health and development of these vulnerable babies. Neonatal Nurses play a crucial role in neonatal intensive care units (NICUs) or specialized neonatal care settings.
Critical Care Nurses
Critical care nurses are specialized in providing intensive care to patients with life-threatening conditions. They work in intensive care units (ICUs) and emergency departments, monitoring vital signs, managing life support systems, and ensuring the stability of critically ill patients. Their expertise and quick response are vital in saving lives and promoting recovery.
Pediatric Nurses
Pediatric nurses specialize in caring for infants, children, and adolescents. They have a deep understanding of pediatric diseases, growth, and development. Pediatric nurses play a crucial role in promoting child health, administering vaccinations, providing emotional support to young patients and their families, and delivering specialized care in pediatric units and clinics.
Obstetric and Gynecological Nurses
These nurses focus on women's health, providing care during pregnancy, childbirth, and postpartum. They assist in prenatal check-ups, support labour and delivery, educate new mothers about newborn care, and address women's health concerns. Obstetric and gynaecological nurses contribute to the well-being of women and newborns.
Mental Health Nurses
Mental health nurses provide care and support to individuals with mental disorders. They work in psychiatric hospitals, clinics, and community settings, assisting patients in managing their conditions, administering medications, and offering therapeutic interventions. Mental health nurses are critical in reducing stigma and promoting mental well-being.
Community Health Nurses
Community health nurses focus on promoting health and preventing diseases within the community. They educate individuals and groups on healthy lifestyles, conduct health screenings, manage immunization programs, and provide home healthcare services. Community health nurses contribute to improving the overall health of the population.
Home Care Nurse
A Home Care Nurse delivers healthcare services to patients in their homes, providing personalized care and assistance with daily activities. They administer medications, monitor vital signs, dress wounds, and provide rehabilitation support, while also educating patients and their families on self-care. Home Care Nurses enable patients to receive quality care in the comfort of their homes, promoting independence and enhancing overall well-being.
C. Professional Titles when Working as a Nurse
Registered Nurse
A Registered Nurse (RN) is a healthcare professional who has completed a Bachelor's degree in Nursing and holds a license. With a minimum of two years of clinical experience, Registered Nurses provide direct patient care, administer medications, coordinate and manage patient treatment plans, and collaborate with other healthcare professionals to ensure the well-being of patients. They work in various healthcare settings and play a crucial role in promoting and maintaining the health of individuals and communities.
Assistant Nurse
An Assistant Nurse is a healthcare professional who supports the work of Registered Nurses and other healthcare providers. They typically hold a Diploma in Nursing and a General Nursing and Midwifery Diploma. With at least one year of clinical experience, Assistant Nurses assist in patient care activities such as taking vital signs, helping with bathing and grooming, and providing basic nursing care. They work under the supervision of Registered Nurses and contribute to ensuring patients receive appropriate care and support.
Speciality Nurse
A Specialty Nurse is a Nurse who has acquired advanced knowledge and skills in a specific area of nursing. To become a Specialty Nurse, they must first obtain their Registered Nurse qualification and then complete a postgraduate certificate in their chosen nursing speciality. With a minimum of one year of experience in the related speciality field, Specialty Nurses provide specialized care to patients. They often work in specialized units or departments within healthcare facilities, delivering high-quality care tailored to specific patient needs.
Registered Midwife
A Registered Midwife is a healthcare professional who specializes in providing care to women during pregnancy, childbirth, and the postpartum period. They typically hold a Bachelor's degree in Midwifery or a BSc in Nursing and Midwifery Certificate. With at least two years of experience as a Midwife, they offer comprehensive prenatal and postnatal care, conduct regular check-ups, monitor the health of both mother and baby, assist in childbirth, and provide education and support to expectant mothers. Registered Midwives work in various settings, including hospitals, birthing centres, and home birth services.
Assistant Midwife
An Assistant Midwife is a healthcare professional who supports the work of Registered Midwives. They usually hold a Diploma in Midwifery or a Diploma in Nursing with a Midwifery program. With at least one year of experience as an Assistant Midwife, they assist in various aspects of maternity care, including prenatal visits, childbirth assistance, and postpartum care. Working under the guidance of Registered Midwives, Assistant Midwives play an important role in ensuring the safety and well-being of mothers and their newborns during childbirth.
Eligibility and Qualification to Become a Nurse in Dubai UAE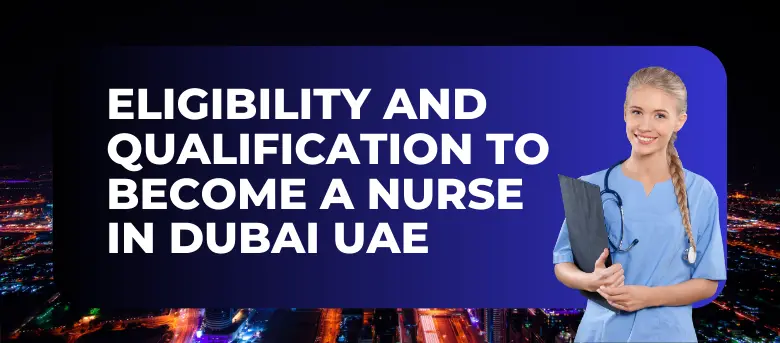 A. Requirements and Considerations for Nursing License to Work in Dubai
Nurses who wish to apply for a license must meet the following requirements:
Graduation from a National or Internationally recognized Nursing college/University.
For graduates from universities in the United Arab Emirates (UAE), the nursing program and university must be accredited by the Ministry of Education (MOE/NQA).
Exclusion of qualifications acquired through honorary nature, correspondence, or distance learning from the Professional Qualifications Requirements (PQR).
Bachelor's degree in nursing with a minimum of three years of full-time coursework.
Completion of a post-graduation internship lasting six (6) months for non-UAE national graduate nurses from UAE universities. This requirement is waived for UAE national nurses at the basic entry level.
Possession of a valid License/Registration to practice in their home country and/or country of last employment (where applicable).
Assistant Nurses and Assistant Midwives cannot work independently and must work under the supervision of a registered nurse or midwife.
All nurses must hold a current Basic Life Support (BLS) Certification or other certifications as per their scope of practice.
Submission of academic transcripts for credentialing purposes, including determination of disciplines.
B. Documents required for a Nursing career in Dubai
To apply for registration as a nurse or midwife, you will need to gather the following documents and meet the specified requirements:
Passport and UAE Visa: These documents are required for identification and legal purposes when working in the United Arab Emirates. A valid passport is necessary to enter the country, and a United Arab Emirates Visa is necessary to legally work and reside in the Country.
High School Diploma/Pre-degree: This document certifies the completion of secondary education or its equivalent. It is typically required as a minimum educational qualification for many job positions or further studies.
Nursing Degree Certificate: This certificate validates the successful completion of a nursing degree program. It demonstrates the individual's knowledge and skills in nursing and qualifies them for various nursing jobs in top Dubai hospitals.
Nursing License/Registration: It is an official document issued by the appropriate regulatory body, indicating that the individual has legally met the requirements to practice nursing. It is mandatory for practising as a registered nurse in Dubai.
Transcript of Records for Nursing or Midwifery Degree: This document provides a detailed record of the courses taken and the grades achieved during the accredited nursing or midwifery degree program. It gives a comprehensive overview of the individual's academic performance.
Experience Certificate (Recent 2 years): This certificate verifies the individual's work experience in nursing. It includes details such as the duration of employment, job responsibilities, and the employer's contact information.
Master's Degree Certificate, if applicable: If the individual holds a Master's degree in nursing or a related field, this certificate confirms the successful completion of the advanced degree program.
Equivalence of Master's Degree: This document is obtained from the Ministry of Education and confirms the correspondence of a Master's degree obtained from a foreign institution to the United Arab Emirates education system.
HAAD/DHA License, if applicable: The Health Authority Abu Dhabi (HAAD) or DHA license is required for healthcare professionals practising in Abu Dhabi or Dubai, respectively. It demonstrates the individual's eligibility and compliance with the specific regulations of the respective healthcare authority.
Previous Dataflow Report, if applicable: A Dataflow Report is a verification process conducted by a specialized agency to authenticate the individual's educational and professional credentials. It may be required as part of the application process for certain positions or licensure.
Recent Good Standing Certificate: This certificate is issued by the nursing regulatory body and confirms that the individual has maintained a good professional standing, with no disciplinary actions or misconduct.
Valid Resuscitation Certificate (BLS or ACLS): Basic Life Support (BLS) or Advanced Cardiac Life Support (ACLS) certification is necessary for healthcare professionals to demonstrate competency in providing emergency life support and resuscitation techniques.
Job Offer Letter, if HAAD or DHA license transfer: If the individual is transferring their HAAD or DHA license to a new employer, a job offer letter from the new employer may be required as part of the license transfer process. It outlines the terms and conditions of employment.
C. Examination
To obtain a professional license in the United Arab Emirates as a Nurse or Midwife, individuals must pass the examination conducted by the Ministry of Health and Prevention. Applicants are allowed three attempts to pass the examination and obtain the license. If unsuccessful after the third attempt, they are not permitted to apply for a lower or equivalent professional title.
Upon successfully passing the examination, you will receive an eligibility letter that remains valid for one year. However, it's important to note that the overall DHA process typically takes between 3 to 6 months.
Exam Exemption
Certain individuals may be exempt from the examination requirement:
UAE Nationals: United Arab Emirates Nationals are eligible for a professional license based on their nationality, without the need to take the examination.
Graduates of Universities inside the UAE: Those who have completed their nursing or midwifery education at universities within the UAE may be exempt from the examination.
HAAD/DHA License Holders: Individuals with a valid license from the Health Authority Abu Dhabi (HAAD) or Dubai Health Authority may be exempt from the examination.
Applicants with Licenses from specified countries: Individuals holding nursing or midwifery licenses from the US, UK, Ireland, New Zealand, Canada, Australia, or South Africa may be eligible for an exemption from the examination requirement in the UAE.
D. Discontinuity of Practice and Renewal of Registration:
Discontinuity of Practice:
Nurses and Midwives who have a gap in their clinical practice exceeding two (2) years and wish to be licensed in the UAE must comply with the following Continuing Medical Education/Continuing Professional Development (CME/CPD) requirements:
A gap of Practice Requirement:
A gap of practice from two to less than three years: 20 CME/CPD credits and 6 months of training.
A gap of practice from three to less than four years: 40 CME/CPD credits and 6 months of training.
A gap of practice from four to less than five years: 60 CME/CPD credits and 6 months of training.
A gap of practice from five to ten years (for UAE nationals only): 100 CME/CPD credits and 12 months of training.
Renewal of Registration
Nurses and Midwives must submit proof of 6 months of recent experience within the UAE and fulfil a minimum of 20 CME/CPD credits to renew their registration. Documents Required for Renewal:
Passport with Visa.
High School Diploma.
Nursing Degree Certificate.
Ministry of Health Registration.
Private License (for Private Staff in MOH) or DHA/HAAD license.
Benefits and Salary of Nurses who work in Dubai
Dubai offers lucrative nursing jobs with competitive salaries ranging from AED 6000 to AED 15000, along with a host of benefits. However, it's important to note that salaries can be higher for specialized nurses or those with advanced degrees. The city's dynamic healthcare sector provides skilled nurses with abundant opportunities for personal and professional growth. Embrace the chance to make a difference in patient care, experience a multicultural environment, and work in world-class facilities.
In addition to a competitive salary, nurses in Dubai can enjoy several other perks and benefits:
Relocation Allowance: Many employers provide a relocation allowance to assist nurses in their move to the UAE, covering expenses such as transportation and initial accommodation.
Accommodation: Nurses may receive free accommodation or a housing allowance, which helps with the cost of housing in Dubai's vibrant real estate market.
Annual Flight: Nurses often receive one free flight home per year, allowing them to visit their home country or preferred destination during their time off.
Insurance Coverage: Comprehensive benefits packages typically include dental, health, and life insurance, ensuring nurses can access necessary medical care and coverage.
Annual Leave: Nurses can enjoy generous annual leave, with an average of 40 days off per year, allowing for ample time to relax, travel, or visit family and friends.
Tax-Free Salary: One of the attractive aspects of working in Dubai is the absence of income tax. Nurses can benefit from a tax-free salary, maximizing their take-home pay.
Education Allowance: Some employers provide an education allowance for the children of nurses, supporting their educational needs and ensuring access to quality schooling.
These perks and benefits contribute to the overall attractiveness of pursuing a nursing career in Dubai also, making it an appealing destination for nursing jobs seeking excellent opportunities and a favourable work-life balance.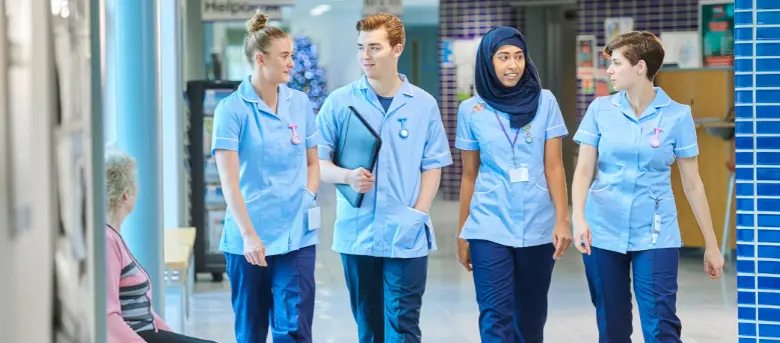 How to Apply for Top Nursing Jobs in Dubai
When it comes to a job application for a nursing position, there are various routes you can take. You can search for a job per your needs in top Dubai hospitals, reach out to nurse recruitment services or explore opportunities within the Dubai Healthcare sector. The application process may vary depending on the specific job and the healthcare facility, but having a well-prepared nursing resume and cover letter will always be valuable in getting your dream job.
When searching for nursing jobs in Dubai, you can utilize various platforms. Here are some prominent media and agencies to consider:
Online job portals – Websites like jobs-in-dubai.com, Bayt, GulfTalent, and Naukrigulf are reputable platforms where you can find nursing job listings in Dubai. Create profiles, upload your resume, and regularly check for job openings in the healthcare sector.
Social media – Follow healthcare facilities, hospitals, and nursing recruitment agencies on social media platforms like LinkedIn, Facebook, and Twitter. They often post nursing job vacancies and provide updates about the industry.
Hospital and healthcare websites – Visit the career or job section on the websites of renowned hospitals and healthcare organizations in Dubai. Many of them post nursing job opportunities directly on their websites.
Recruitment agencies – Connect with nursing agencies in Dubai, such as Davidson Management Consultants and Medacs Healthcare. These agencies specialize in placing nurses in various healthcare settings and can assist you in finding suitable nursing positions.
Job fairs – Attend healthcare job fairs and exhibitions in Dubai, where you can interact with potential employers, submit your resume, and learn about nursing job openings. Examples include the Arab Health Exhibition and Congress.
Networking – Tap into your professional network, including colleagues, professors, and previous employers. Inform them of your interest in nursing jobs in Dubai, as they may have connections or information about available positions.
By utilizing these mediums, you can increase your chances of finding and applying for top nursing jobs in Dubai.
Frequently Asked Questions and Answers for Nurse Jobs in Dubai
1. Can I work in Dubai as a nurse without experience?
In Dubai, it is generally challenging to find nursing positions without any prior experience. Most healthcare facilities prefer candidates with relevant experience and demonstrated clinical skills. However, there may be opportunities for newly graduated nurses in entry-level positions or internship programs. It's important to research and connects with healthcare institutions in Dubai to explore potential options and requirements for entry-level positions. Gaining experience through internships, volunteer work, or pursuing further education can enhance your chances of securing a nursing job in Dubai.
2. What is the salary of a fresher nurse in the UAE?
The salary for fresher nurses in Dubai can vary depending on factors such as the healthcare facility, the nurse's qualifications, and the specific nursing role. Generally, the salary range for fresher nurses in Dubai is between AED 4,000 to AED 7,000 per month (approximately $1,100 to $1,900 USD). It's important to note that these figures are approximate and can vary. Additionally, some healthcare facilities may offer additional benefits such as accommodation, transportation, and healthcare coverage, which can impact the overall compensation package for fresher nurses in Dubai.
3. How can I go to Dubai for a nursing job?
To pursue a nursing job in Dubai, follow these steps:
Check the eligibility criteria set by the DHA
Research nursing job opportunities through online portals and recruitment agencies.
Prepare documents such as resumes, transcripts, nursing licenses, and experience certificates.
Obtain a DHA nursing license or eligibility.
Apply for nursing positions and tailor your application accordingly.
Attend interviews with potential employers.
Arrange logistics for relocation, including obtaining a work visa and arranging accommodation.
Complete the onboarding process after accepting a job offer.
Stay updated with DHA regulations and maintain a professional approach throughout the application process.
4. Is it possible for Indian nurses to look for jobs for nurses in Dubai?
Yes, Indian nurses can explore job opportunities in Dubai. With a high demand for healthcare professionals, nurses from India are often sought after. To pursue nursing jobs in Dubai, Indian nurses can research healthcare facilities, check eligibility requirements set by the regulatory body, prepare necessary documents, apply for positions, attend interviews, and obtain the required approvals and visas.
5. What is the entrance exam for nursing in Dubai?
In Dubai, nurses are required to take the Dubai Prometric Exam administered by the DHA. This computer-based exam assesses nursing knowledge, clinical skills, and understanding of Dubai's healthcare regulations. In other emirates like Abu Dhabi and the Northern Emirates, nurses must take the MOH Exam conducted by the Ministry of Health (MOH). The MOH Exam evaluates nursing knowledge, clinical skills, ethics, and regulations specific to the respective emirate. These exams ensure that nurses meet the required standards to provide safe and competent care in their chosen emirate.
Conclusion for Nursing Jobs in Dubai
In conclusion, Dubai is the best opportunity for nurses looking to work overseas. Dubai is in high demand for professionals looking to apply for a nursing job, and there are numerous job openings and vacancies in top hospitals. Skilled and hardworking nurses have the chance to secure well-paid positions, with the average salary for a registered nurse being competitive. The income in Dubai is generally high, and nurses can enjoy additional benefits such as accommodation allowance and travel expenses. Dubai's healthcare sector is known for its dynamic and cutting-edge facilities, making it an ideal place to advance one's career.
When applying for a Dubai nursing job, there are certain eligibility criteria that need to be met, including obtaining a nursing license and receiving an eligibility letter To facilitate the job search, recruitment agencies specializing in nurse recruitment can provide valuable assistance.
Living and working in Dubai as a qualified nurse is not only financially rewarding but also offers a new and exciting opportunity to work overseas. The city provides a multicultural environment and excellent infrastructure for the healthcare industry. Many nurses with specialized nursing education and experience have even more opportunities to find the best positions in Dubai in their specific fields.
Job prospects for nurses are promising, with a high demand for healthcare professionals in Dubai. The interview process and application requirements may vary depending on the job position and the healthcare facility. However, dedicated recruitment services can guide and support nurses throughout the process, ensuring a smooth transition to their dream nursing job in Dubai.
Overall, Dubai is an excellent opportunity for nurses seeking a fulfilling and prosperous nursing career. With its top healthcare facilities, high-income potential, and diverse cultural experiences, Dubai provides a rewarding environment for skilled nursing professionals.