Welcome to the dazzling world of Dubai's world-class hotel industry, a thriving global hub of luxury and hospitality. In this guide, we're your compass to navigate the dynamic landscape of prestigious hotels in Dubai. Our mission? To chart your course toward a rewarding career amid the abundant wonders of Dubai. Whether you're looking for a front office role, aspire to master the art of culinary excellence, or seek the serenity of spa management, join us as we unveil the secrets to securing your place in Dubai's coveted hotel business. Let's embark on this extraordinary journey of working in Dubai's hotel industry.
The Hotel Industry in Dubai: An Overview
Dubai stands as a shining beacon in the global hospitality sector, renowned for its iconic status as a luxury destination like no other. Nestled within this vibrant emirate is a hospitality industry that continually redefines opulence and sets new standards in service excellence. Dubai's hotel business is not just a sector; it's a realm of boundless luxury and incredible opportunities for job seekers
Differnt types of hotels in UAE
Luxury Retreats:
The United Arab Emirates is renowned for its opulent 5-star and even 7-star resorts, where guests are pampered with lavish accommodations, exquisite dining, and unmatched service. Iconic examples include Dubai's Burj Al Arab and Abu Dhabi's Emirates Palace.
Charming Boutique Lodgings:
The United Arab Emirates boasts a selection of intimate boutique hotels, each featuring unique and artfully designed rooms. These gems provide personalized service and a focus on culture and aesthetics.
Seaside and Desert Resorts:
The United Arab Emirates offers a plethora of resorts along its picturesque beaches and in the tranquil desert landscapes. These oases provide guests with diverse amenities, from private beaches to spa facilities.
Corporate-Friendly Accommodations:
For business travellers, there is a range of hotels with well-appointed meeting and conference facilities, high-speed internet, and strategic locations near major business hubs.
Economical and Mid-Range Lodgings:
Travelers seeking comfortable accommodations without breaking the bank can find plenty of budget and mid-range options in the UAE. These hotels offer excellent value for money without compromising on quality.
These diverse options ensure that visitors to the UAE can find accommodations that align with their preferences, whether they seek luxury, culture, adventure, or affordability.
Top hotels to work in Dubai, UAE
If you find yourself seeking guidance on securing a job within the best hotel in Dubai, you're in the right spot. In this article, we will provide you with valuable tips and strategies to help you achieve your goal of landing your dream job in one of Dubai's renowned hotels. Dubai offers numerous vacancies for freshers looking for 5-star hotel jobs in Dubai. Here's an extended list of top elite hospitality organizations providing such opportunities, along with brief descriptions of each:
Burj Al Arab Jumeirah:
Known as the world's most luxurious 5-star hotel, the Burj Al Arab offers exceptional career prospects in the ultra-luxury segment of the hospitality industry.
Atlantis The Palm: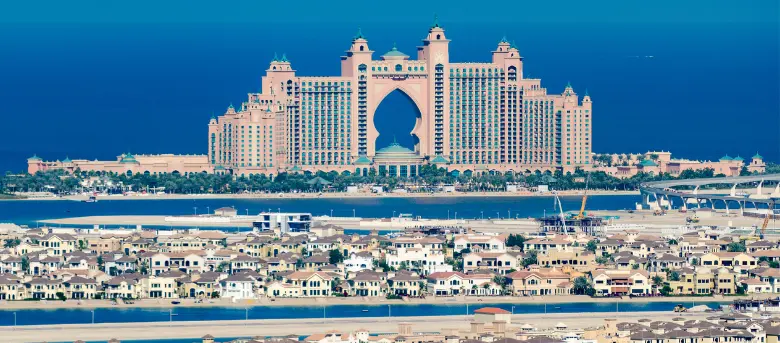 This iconic luxurious hotel and resort in Dubai offers various job opportunities, from guest services to culinary positions.
Radisson Hotel Group:
Radisson operates hotels and resorts globally, and they have a presence in Dubai. Opportunities for freshers can be found in different departments, such as front office, food and beverage, and housekeeping.
Accor Hotel Group:
Accor is a leading international hotel group with various brands like Sofitel, Novotel, and Ibis. They operate several hotels in Dubai and provide opportunities for freshers.
Jumeirah Group:
Jumeirah is a Dubai-based luxury hotel company with a range of properties known for their exceptional service and stunning architecture. Job seekers can find opportunities in various departments.
Hilton Worldwide:
Hilton is a globally recognized brand known for its luxury and hospitality. They have several properties in Dubai, offering diverse career opportunities.
Emaar Hospitality Group:
Emaar is a prominent real estate developer in Dubai and has ventured into the hospitality business with properties like The Address Hotels. They offer a range of job opportunities in this sector.
Saleh Bin Lahej Group:
This diversified group in Dubai has interests in hospitality, among other sectors. They may have job openings in their hotels and resorts.
Ritz-Carlton Dubai:
As part of the Marriott International group, the Ritz-Carlton Dubai provides opportunities for freshers in a luxurious setting.
Armani Hotel Dubai:
Located in the Burj Khalifa, this hotel is a part of the Armani brand and offers opportunities to work in a high-end environment.
Anantara Hotels, Resorts & Spas:
With a presence in several UAE cities, Anantara offers opportunities in the upscale and exotic hospitality sector.
When searching for jobs with these organizations, it's recommended, that you want to check their official websites, you can find detailed job descriptions for job listings and application instructions.
Exciting Job Opportunities Across Hotel Departments
Hotels are intricate ecosystems, finely tuned to provide guests with exceptional experiences. Within these establishments hotel ensures, that numerous departments work in harmony to create memorable stays. Let's embark on a journey through the heart of hotels, exploring the latest job vacancies in Dubai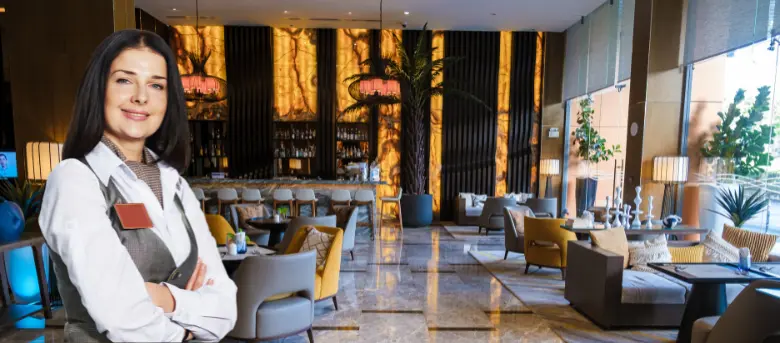 Front Office: The Gateway to Hospitality
The front office is the face of the hotel, responsible for guest check-in, check-out, and inquiries.
Front Desk Agent: Entry-level position, salary ranging from AED 3,000 to AED 6,000.
Guest Service Representative: Mid-level position, salary ranging from AED 6,000 to AED 10,000.
Concierge: Mid-level to senior position, salary ranging from AED 7,000 to AED 12,000.
Skills: Excellent communication, problem-solving, and interpersonal skills are vital. Proficiency in multiple languages can be a plus.
Sales and Marketing: Crafting the Hotel's Image
Sales and marketing teams work to attract guests and boost revenue through promotions and advertising.
Sales Manager: Mid-level position, salary ranging from AED 8,000 to AED 15,000.
Marketing Coordinator: Entry to mid-level position, salary ranging from AED 5,000 to AED 10,000.
Revenue Analyst: Mid-level position with several years of experience and chances of getting a salary range from AED 7,000 to AED 12,000.
Skills: Strong negotiation, analytical, and creativity are essential. Digital marketing expertise is increasingly valuable.
Food and Beverage: The Culinary Haven
This department covers restaurants, bars, catering, and room service, ensuring guests enjoy exceptional dining experiences.
Chef de Cuisine: Senior position, salary ranging from AED 12,000 to AED 25,000.
Bartender: Entry to mid-level position, salary ranging from AED 3,000 to AED 8,000.
Restaurant Manager: Mid to senior-level position, salary ranging from AED 8,000 to AED 15,000.
Skills: Culinary skills, creativity, customer service, and the ability to handle high-pressure situations.
Housekeeping: Crafting Immaculate Environments
Housekeeping is responsible for maintaining cleanliness and order throughout the hotel.
Housekeeper: Entry-level position, salary ranging from AED 3,000 to AED 6,000.
Room Attendant: Entry-level position, salary ranging from AED 3,000 to AED 6,000.
Housekeeping Manager: Mid to senior-level position, salary ranging from AED 8,000 to AED 15,000
Skills: Attention to detail, physical stamina, time management, and an eye for cleanliness are essential.
Spa and Wellness: Oasis of Relaxation
Spa departments offer relaxation and rejuvenation services, including massages, facials, and fitness facilities.
Spa Therapist: Entry to mid-level position, salary ranging from AED 4,000 to AED 8,000.
Fitness Instructor: Entry to mid-level position, salary ranging from AED 4,000 to AED 8,000.
Spa Manager: Mid to senior-level position, salary ranging from AED 8,000 to AED 15,000.
Skills: Training and certification in spa services, excellent customer service, and a passion for wellness.
Engineering and Maintenance: Keeping It Running Smoothly
This behind-the-scenes team ensures that all systems, from plumbing to HVAC, function seamlessly.
Maintenance Technician: Entry-level position, salary ranging from AED 3,000 to AED 6,000.
Chief Engineer: Mid to senior-level position, salary ranging from AED 8,000 to AED 15,000.
Facilities Manager: Mid to senior-level position, salary ranging from AED 8,000 to AED 15,000.
Skills: Technical expertise, problem-solving, and the ability to respond quickly to emergencies.
Finance and Administration: The Business Hub
The finance department manages budgets, payroll, and financial reporting.
Financial Controller: Senior position, salary ranging from AED 12,000 to AED 25,000.
Accountant: Entry to mid-level position, salary ranging from AED 4,000 to AED 10,000.
Procurement Manager: Mid-level position, salary ranging from AED 7,000 to AED 12,000.
Skills: Accounting and financial analysis skills, attention to detail, and knowledge of hotel finances.
Human Resources: Nurturing Talent
HR oversees recruitment, training, and employee relations, ensuring a skilled and motivated workforce.
HR Manager: Mid to senior-level position, salary ranging from AED 8,000 to AED 15,000.
Training Specialist: Entry to mid-level position, salary ranging from AED 5,000 to AED 10,000.
Recruitment Coordinator: Entry to mid-level position, salary ranging from AED 4,000 to AED 8,000.
Skills: Strong interpersonal skills, knowledge of labour laws, and the ability to foster a positive work environment.
These departments collectively form the backbone of a hotel, each playing a vital role in providing guests with a seamless and memorable stay.
Allowance by Employers
Housing Allowance: Employers offer housing support to assist employees with their housing expenses, especially in areas where the cost of living is high. This support can be used for rent or mortgage payments, utilities, and other housing-related costs.
Transportation Assistance: Employees may receive transportation assistance to cover their commuting expenses. This assistance can include support for fuel costs, public transportation fares, vehicle maintenance, and parking fees.
Meal Coverage: Some employees, especially those working long hours or frequently travelling for work, receive meal coverage. This coverage helps with the expenses associated with dining outside of their homes, including meals during work hours.
Dress code: Jobs in hospitality, may require specific attires. Employers provide provisions to help employees with the costs associated with acquiring and maintaining these required attires.
Medical insurance: Employers offer medical insurance to help employees manage medical expenses that may not be fully covered by their health insurance. This support can include assistance with copayments, prescription medications, or specific medical treatments.
Qualifications and Skills for Hotel Jobs in UAE
Dubai, the jewel of the UAE, boasts a flourishing hotel industry known for its luxury and world-class hospitality. If you aspire to secure your dream job in this dynamic sector, it's imperative to understand the qualifications and skills that set you on the path to excellence.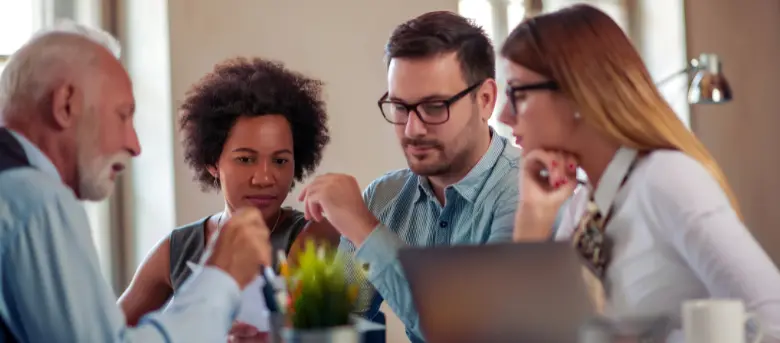 Certifications:
Hospitality Management:
A degree or certification in hospitality management is highly regarded. It equips you with a solid foundation in the industry's principles, from guest services to operations.
Food and Beverage Certifications:
If your passion lies in the culinary world, certifications from culinary schools or organizations can enhance your credentials.
Language Proficiency:
Given Dubai's multicultural clientele, proficiency in multiple languages, especially English and Arabic, can be a game-changer.
Prior Experience:
Internships and Entry-Level Roles:
Many successful hoteliers begin their journey in entry-level positions or internships. These roles provide invaluable hands-on experience.
Progressive Career Growth:
hotels value candidates with a track record of progressively responsible roles within the industry. Climbing the ranks demonstrates your commitment and competence.
Skills for Success:
Excellent customer service skills:
Exceptional customer service skills are non-negotiable. The ability to anticipate and exceed guest expectations is paramount.
Adaptability:
Dubai's resort and hotel business is fast-paced. Adaptability to changing circumstances and a willingness to embrace diversity are key.
Attention to Detail:
Whether it's ensuring immaculate hotel rooms or precise food presentation, attention to detail shows your interest in Job
Teamwork:
Collaboration is at the core of hotel operations. Being a team player and communicating effectively with colleagues are essential.
Tech Savvy:
Familiarity with hotel management's latest industry software, reservation systems, and digital marketing tools is increasingly important.
Cultural Sensitivity:
Dubai's multicultural environment demands cultural sensitivity and respect for diverse traditions and values.
Problem-Solving:
The ability to think on your feet and creatively solve challenges is a valuable asset
Professional Appearance:
In Dubai, maintaining a professional appearance is not just a recommendation but a fundamental expectation, especially in the hotel Business. The city places a significant emphasis on appearance, grooming, and personal presentation, and this extends to job interviews and the workplace.
To work in Dubai and get a hotel job, qualifications, experience, and a commitment to continuous learning help you prepare for chances of landing a job. Whether you're eyeing a role in management, culinary arts, or any other department, the pursuit of excellence is the common thread that unites successful professionals in this vibrant sector.
Navigating Your Hotel Job Search Effectively
Research Specific Hotels and Job Openings:
Research the Hotel industry: Begin by exploring the official websites of hotels in Dubai. These sites often have dedicated career pages where you can find current job openings.
Online Job Portals: Utilize online portals and platforms like jobs-in-dubai.com, LinkedIn, Indeed, or Bayt to discover hotel job listings. Customize your search by location, position, and hotel name.
Industry Events: Attend events, career fairs, and networking gatherings in Dubai. This is an excellent opportunity to connect with Dubai hotel industry representatives and learn about hospitality jobs in Dubai
Professional Associations: Join professional associations related to the industry. These associations often provide job boards and networking events.
Social Media: Follow hotels and hotel industry professionals on social media platforms like LinkedIn and Twitter. Many hotels sometimes share job openings on their social profiles.
Connecting with Recruiters and Standing Out:
LinkedIn: Create a professional LinkedIn profile that showcases your skills and experiences. Connect with hotel hiring managers and engage with their posts and updates.
Personalize Applications: Tailor your CV and cover letter for each application. Highlight relevant skills and experiences that match the specific job and hotel.
Networking: Attend industry events, webinars, regular training sessions, and workshops to meet recruiters in person or virtually. Building relationships can lead to job referrals.
Follow-Up: After submitting your application or attending interviews, send a polite follow-up email to express your continued interest and gratitude.
Exploring Hotel Cultures and Values:
Hotel Websites: Visit the official websites of hotels you're interested in. Look for sections about the hotel's culture, mission, and values.
Social Media: Follow hotels on social media platforms to gain insights into their culture, employee engagement, and community involvement.
Glassdoor and Indeed Reviews: Websites like Glassdoor and Indeed often feature employee reviews that shed light on a hotel's work culture and employee satisfaction.
Professional Contacts: Reach out to professionals in the hotel industry, including current or former employees of hotels you are interested in working with. They can provide firsthand insights.
By combining diligent research, proactive networking, and a personalized approach, you can navigate your hotel job search effectively, connect with recruiters, and align yourself with hotels that resonate with your values and career aspirations in Dubai's vibrant hospitality industry.
Common Interview Questions:
Once you've secured an interview, it's time to prepare diligently. Practice answering common interview questions, emphasizing your enthusiasm for the position and your ability to contribute to the organization's success. Dress professionally, arrive on time, and be prepared to discuss your qualifications and experiences in detail.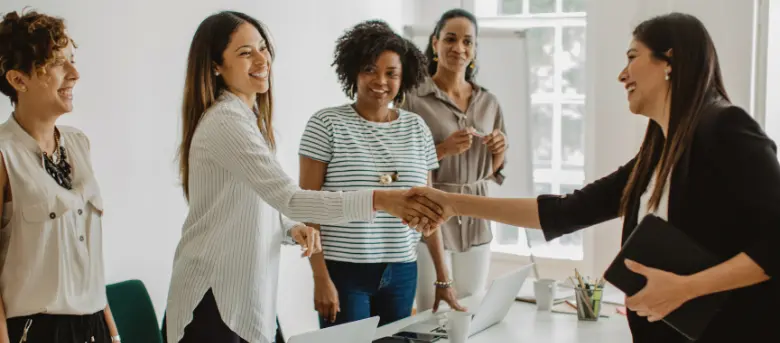 Dubai's hotel industry often conducts multiple rounds of interviews to ensure they select the best candidates. Be patient and persistent, and use each interview as an opportunity to showcase your skills and passion for the industry.
Tell us about yourself: Highlight relevant experiences and skills.
Why do you want to work here: Emphasize your enthusiasm for the hotel and its values.
How do you handle challenging guests: Discuss your problem-solving and conflict-resolution skills.
What is your greatest strength/weakness: Showcase your strengths and your commitment to personal growth.
Describe a situation where you provided exceptional service: Share a specific example highlighting your customer service skills.
How do you handle stress: Explain your strategies for staying calm and focused under pressure.
By infusing your job search with enthusiasm, cultural sensitivity, and exemplary customer service skills, you'll not only increase your chances of landing your dream job but also contribute to the vibrant tapestry of Dubai's hospitality industry.
Life in Dubai: Cost, Culture, and Lifestyle
Embracing Life in Dubai: A Blend of Cost, Culture, and Vibrancy
Dubai, a city of dreams, offers a lifestyle that's both exhilarating and unique. Here's a glimpse into what living and working in the country can mean for you:
Cost of Living and Work Benefits:
Tax-Free Income: One of Dubai's most enticing perks is the absence of income tax. You get to keep what you earn.
Competitive Salaries: The city offers competitive salaries, often accompanied by bonuses and other benefits.
High-Quality Living: While some aspects of life can be expensive, Dubai balances it out with a high standard of living and top-notch infrastructure.
Housing: Rental costs vary based on locations, but the city offers options ranging from luxurious apartments to more affordable accommodations.
Transport: Dubai's efficient public transport and affordable fuel prices make commuting convenient.
Healthcare: Dubai boasts world-class healthcare facilities, ensuring access to top-notch medical services.
Cultural Experiences and Leisure Opportunities:
Iconic Landmarks: Dubai is home to architectural wonders like the Burj Khalifa, Palm Jumeirah, and the Dubai Frame.
Shopping Paradise: Explore extravagant malls, traditional souks, and designer boutiques.
Cultural Diversity: Immerse yourself in a rich tapestry of cultures, with a thriving expatriate community.
Cuisine: Savor a global culinary journey, from street food to fine dining.
Adventure: Engage in thrilling activities like desert safaris, skydiving, and indoor skiing.
Art and Culture: Visit galleries, theatres, and cultural festivals celebrating both local and international talents.
Multicultural Environment and Advantages:
Global Networking: Dubai's international appeal opens doors to a diverse network of professionals from around the world.
Language Diversity: English is widely spoken, and the city's diverse environment promotes language diversity.
Tolerance: Dubai is known for its tolerance and respect for diverse beliefs and lifestyles.
Safety: The city is renowned for its safety, making it an ideal place to live and raise a family.
Dubai offers a dynamic blend of modernity and tradition, with opportunities for personal and professional growth. It's a city where dreams can take flight, offering a unique and enriching experience for those who choose to call it home.
Hotel Job in Dubai FAQs: Your Path to a Thriving Hospitality Career
How can I work in a hotel with no experience?
To start a hotel career with no experience, consider entry-level roles such as front desk, housekeeping, or F&B service. Showcase enthusiasm, a customer-centric attitude, and a willingness to learn during interviews. Dubai's hotels often provide training and development programs, making it possible to gain experience and advance quickly in this vibrant industry.
What is the average salary in the hotel industry in Dubai?
The average salary in the hotel industry varies depending on the position and experience. Entry-level roles like front desk staff may start at around AED 3,000 to AED 6,000 per month, while mid-level positions such as sales managers can earn between AED 8,000 to AED 15,000 monthly. Senior roles and specialized positions can command higher salaries, often exceeding AED 15,000 per month. Salaries can also include benefits such as accommodation, transportation, and annual bonuses. It's essential to research specific job roles and hotel chains for accurate and up-to-date salary information.
How do I write a cover letter for a hotel job?
When crafting a cover letter for a hotel job in Dubai, keep it concise and compelling. Start with a friendly greeting, express your enthusiasm for the position, and highlight your relevant skills and eagerness to contribute to the hotel's success. Mention your desire to embrace Dubai's multicultural environment and commitment to exceptional customer service. Conclude with a strong call to action, expressing your interest in an interview to discuss how you can add value to the hotel team.
How do I get a good job in a hotel?
To secure a great job in a hotel, start by researching specific hotels and their latest vacancies. Customize your application to match the role. Network actively within the industry, attend events and connect with recruiters on platforms like LinkedIn. Showcase enthusiasm, exceptional customer service skills, and cultural awareness during interviews. Be prepared to discuss how you can contribute to their success. Continuous learning and relevant certifications can also make you a standout candidate in Dubai's competitive hotel industry job market.
Key Takeaways on Hotel Industry Job Vacancies in Dubai
In this ultimate guide, we've covered everything you need to know about landing your dream hotel job in Dubai. From understanding the industry to mastering the job search, acing interviews, and thriving in your career, you now have the tools and knowledge to make your dream a reality.
To summarize, here are the key takeaways:
Dubai's hotel industry is diverse and offers various job opportunities.
Qualifications, skills, and certifications are essential to stand out in the competitive job market.
Regularly explore job vacancies and network to discover hidden opportunities.
Craft a tailored CV that showcases your passion and skills.
Prepare thoroughly for interviews and multiple rounds if necessary.
Be mindful of the cost of living in Dubai and budget wisely.
With dedication and enthusiasm, you can embark on a rewarding career in Dubai's hotel industry, where world-class hospitality meets endless possibilities. Your dream job in this dynamic city awaits! Best of Luck!