Dubai, the dazzling gem of the United Arab Emirates, is a city constantly reinventing itself, and at the heart of this transformation lies the civil engineer. In the grand tapestry of Dubai's urban development, civil engineers are the master weavers, crafting the intricate designs that shape this thriving metropolis. Imagine being part of a city that seems to defy gravity with its towering skyscrapers and ingenious infrastructure. That's the allure of being a civil engineer in Dubai in 2023. The job prospects are nothing short of remarkable, and this blog is your compass to navigate the exciting world of civil engineering jobs in Dubai.
So, if you've ever wondered what it's like to build the future of a city that's already a futuristic wonder, you're in the right place. Join us as we delve into the purpose of this blog: to provide you with invaluable insights into the captivating world of civil engineering in Dubai.
Overview of the Construction Industry in Dubai, UAE
Dubai, the jewel of the United Arab Emirates (UAE), has evolved into a global hub for innovation and architecture, and at its core is the dynamic and ever-expanding construction industry with many opportunities. This sector is a dynamic powerhouse, steering the city's transformation from a desert landscape to a modern marvel. Some of the key players in the construction industry and significant construction projects in Dubai and the UAE are:
Top companies to work in the Construction Industry:
Emaar Properties:
Emaar is one of Dubai's foremost developers and is responsible for iconic projects like the Burj Khalifa and the Dubai Mall. There are often opportunities within Emaar for ambitious and innovative projects.
Nakheel Properties:
Nakheel is renowned for its pioneering waterfront developments, including the Palm Jumeirah. Engineers play pivotal roles in coastal and marine engineering for such projects.
Dubai Holding:
This conglomerate oversees a range of projects, from real estate and tourism to hospitality and healthcare. Engineers contribute to the development of diverse ventures under the Dubai Holding umbrella.
Government Entities:
Government bodies like Dubai Municipality and the Roads and Transport Authority (RTA) are instrumental in Dubai's development. Civil engineers are frequently employed by these entities to manage public infrastructure projects.
Meraas:
Meraas is a developer known for creating unique lifestyle destinations like Bluewaters Island and City Walk.
DAMAC Properties:
 DAMAC has contributed to Dubai's luxury real estate market with developments like DAMAC Hills and Aykon City.
Turner & Townsend:
This international construction consultancy provides project management and cost management services for various construction ventures in the UAE.
ASGC (Al Shafar General Contracting):
ASGC is a prominent construction company involved in commercial, residential, and hospitality projects in Dubai.
Significant Projects in Dubai and the UAE
Burj Khalifa
The Burj Khalifa is the world's tallest skyscraper, soaring to a height of over 828 meters. It is not only an architectural masterpiece but also a symbol of Dubai's ambition and engineering excellence.
Palm Jumeirah
Palm Jumeirah is an artificial palm-shaped island and one of the most recognizable developments in the world. It features luxury residences, hotels, and resorts, showcasing innovative coastal engineering.
Louvre Abu Dhabi
The Louvre Abu Dhabi is a stunning museum designed by renowned architect Jean Nouvel. It houses a diverse collection of art and cultural artefacts from around the world.
The Dubai Frame
The Dubai Frame is an architectural wonder, consisting of two 150-meter-tall towers connected by a 93-meter-wide bridge. It offers panoramic views of the old and new parts of Dubai.
The Museum of the Future
The Museum of the Future is an ambitious project that combines innovative architecture with advanced technology. It showcases Dubai's commitment to shaping a sustainable and forward-thinking future.
Sheikh Zayed Grand Mosque
The Sheikh Zayed Grand Mosque is a magnificent religious and cultural landmark. It features intricate architecture, and stunning domes, and is one of the largest mosques in the world.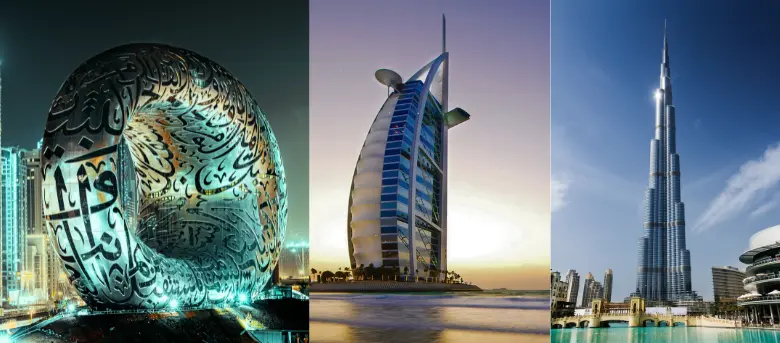 Everything you need to know about Civil Engineering Jobs in Dubai, UAE
A. Benefits of working in Dubai as a civil engineer
Working in Dubai offers a range of benefits and advantages that make it an attractive career destination. Here are some of the key benefits:
High Demand and Job Security: Dubai has a thriving construction industry with a constant demand for civil engineers. This ensures job security and a steady flow of opportunities.
Lucrative Salaries: They often receive competitive salaries, and many positions offer tax-free income, which can significantly boost your overall earnings.
International Experience: Dubai is a global city with a diverse workforce. Working here provides exposure to international projects, practices, and standards, enhancing your global engineering knowledge.
Cutting-Edge Projects: Dubai is known for its ambitious and innovative construction projects. Working on these projects allows you to gain experience at the forefront of engineering and technology.
Career Growth: The construction industry in Dubai offers opportunities for rapid career advancement. You can move into senior roles or leadership positions relatively quickly.
Quality of Life: Dubai offers a high quality of life with excellent healthcare, education, and recreational facilities. It is considered one of the safest and most livable cities in the world.
Cultural Diversity: Dubai is a melting pot of cultures, offering a unique opportunity to work alongside professionals from various backgrounds. This cultural exposure can broaden your horizons and enhance your intercultural communication skills.
Sustainable Focus: Dubai is increasingly emphasizing sustainability in its construction projects, allowing engineers to contribute to environmentally responsible and innovative designs.
Work-Life Balance: Many employers in Dubai promote a healthy work-life balance, and the city offers a wide range of leisure activities to help you relax and unwind.
While Dubai offers numerous benefits, it's essential to consider factors such as the cost of living, cultural adaptation, and long-term career goals before making a decision to work there. Nevertheless, for many engineers, Dubai represents an attractive and rewarding career destination.
B. Job opportunities and civil engineer's salaries in Dubai
Junior Civil Engineer Jobs: Entry-Level Opportunities
Unlocking Your Career in Dubai: If you're a fresh graduate or a fresher civil engineer looking to take your first step into the dynamic world, Dubai is your golden gateway with many companies hiring fresh engineers. The city's insatiable thirst for growth means there are plentiful job openings in Dubai just waiting for your expertise.
Junior Design Engineer
Job Description: You'll probably assist in site inspections, perform basic design tasks, collaborate with senior engineers, and learn the ropes of engineering projects.
Salary Range: AED 5,000 to 8,000 per month (entry-level).
Senior Civil Engineer Positions: Experienced Professionals
In senior roles, you're looking not only to manage projects but also to push the boundaries of innovation. Your experience will be put to the test in designing complex structures including technical support and supervision within the company, ensuring the highest standards of safety and sustainability, and mentoring the next generation of engineers.
Senior Civil Engineer
Job Description: Manages projects, oversees teams, ensures compliance with regulations, and leads the planning and execution of complex engineering tasks.
Salary Range: AED 10,000 to 20,000 per month (mid-senior level).
Project Manager
Job Description: Takes charge of entire projects, from concept to completion, managing budgets, timelines, and teams, while ensuring quality and safety standards are met.
Salary Range: AED 20,000 to 35,000+ per month (senior level).
Specialized Roles: Design Engineers, CADD Engineers, Site Engineers, and More
Specialization in civil engineering is about honing your skills to perfection. As a design engineer, you're the creative genius behind structural blueprints. CADD engineers bring designs to life in the digital realm, while site engineers ensure every brick and beam aligns with the grand vision.
Structural Design Engineer
Job Description: Specializes in designing the structural elements of buildings and infrastructure, ensuring stability, safety, and compliance with codes and standards.
Salary Range: AED 12,000 to 25,000 per month (mid-level).
CADD (Computer-Aided Design and Drafting) Engineer
Job Description: Utilizes software tools to create detailed technical drawings and plans, translating design concepts into digital blueprints.
Salary Range: AED 8,000 to 18,000 per month (mid-level).
Geotechnical Engineer
Job Description: Focuses on soil and rock mechanics, assessing subsurface conditions to inform foundation designs, slope stability, and earthwork projects.
Salary Range: AED 10,000 to 25,000 per month (mid-level).
Environmental Engineer
Job Description: Addresses environmental concerns in engineering projects, ensuring compliance with environmental regulations and sustainability goals.
Salary Range: AED 10,000 to 22,000 per month (mid-level).
These salary ranges are approximate and can vary based on factors such as previous experience based on the company, the specific employer, the complexity of projects, and job location within Dubai. Additionally, specialized roles may command higher salaries due to their expertise in niche areas of civil engineering.
C. Allowance provided by employer
Alongside competitive base salaries, engineers in Dubai often receive a range of benefits and allowances depending on experience:
Housing Allowance: Employers frequently provide a housing allowance or accommodation, reducing living costs significantly.
Transportation Allowance: Some companies offer transportation allowances to cover commuting expenses, whether for fuel or public transit.
Healthcare Benefits: Health insurance coverage for employees and their families is typically part of the compensation package, ensuring access to quality healthcare.
Annual Bonuses: Annual bonuses, based on individual and company performance, are commonplace.
End-of-Service Benefits: Dubai's labour laws mandate end-of-service benefits, providing financial rewards upon contract completion or reaching retirement age.
Education Allowance: Education allowances may be provided to support employees' children's education, covering tuition fees.
Relocation Assistance: For expatriates relocating to Dubai, employers often offer support, including airfare, shipping allowances, and settling-in assistance.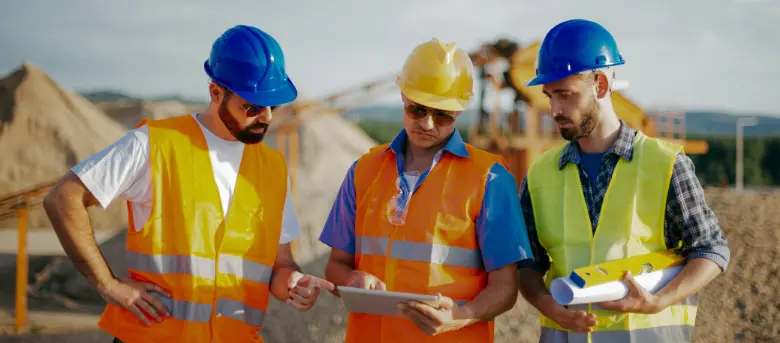 Qualifications and Skills to Work in Dubai as a Civil Engineer
Educational Requirements for Civil Engineer Jobs
When pursuing civil engineer jobs in Dubai, having the right educational qualifications is crucial. Here's what you need to know:
Bachelor's Degree:
A bachelor's degree in civil engineering or a related field is typically the minimum educational requirement. It provides a strong foundation in engineering principles.
Master's Degree:
While not always mandatory, a master's degree can enhance your qualifications and open doors to more specialized roles and higher salaries.
Relevant Courses:
Consider enrolling yourself in courses in areas like structural engineering, environmental engineering, or construction management to align your education with specific career goals such as
AutoCAD: It is essential for civil engineers. To learn it, consider online courses on platforms like Coursera or Udemy. Local educational institutions may also offer AutoCAD classes. Mastering AutoCAD enhances your design and draftsman skills, critical in civil engineering projects.
Building Information Modeling (BIM) Courses: Revit is a BIM (Building Information Modeling) software used in civil engineering for 3D modelling, structural design, and collaboration among architects, engineers, and construction professionals. It streamlines project workflows, enhances accuracy, and supports efficient design and documentation.
Navisworks: It is a software by Autodesk, that aids civil engineers by facilitating project coordination, clash detection, and 3D visualization. It streamlines collaboration among architectural, structural, and MEP disciplines, enhancing efficiency and reducing conflicts during construction projects.
3ds Max: A 3ds Max course is a structured program or training that teaches individuals how to use Autodesk 3ds Max, a 3D modelling, rendering, and animation software. These courses cover various aspects of 3D design, including modelling, texturing, lighting, rendering, and animation. It can be highly beneficial for visualizing and presenting design projects.
Necessary Skills and Experience: What Employers Look For
To stand out in the competitive job market for civil engineers in Dubai, you need a combination of skills and experience:
Technical Proficiency: Employers seek civil engineers with a strong grasp of engineering software, CAD tools, and relevant technical knowledge.
Problem-Solving Skills: Civil engineers must excel in problem-solving, whether it's overcoming design challenges or troubleshooting construction issues.
Project Management: Project management skills are highly valued, as civil engineers often oversee complex projects, including scheduling, budgeting, and resource management.
Communication Skills: Effective communication is vital for collaborating with diverse teams, presenting ideas, and liaising with clients and stakeholders.
Teamwork: Civil engineers rarely work in isolation. Being a team player and collaborating effectively is essential.
Experience: While entry-level positions exist, having prior experience, including internships or co-op opportunities, can give you a competitive edge.
Certifications: Consider obtaining relevant certifications, such as a Professional Engineer (PE) license or LEED accreditation, to enhance your qualifications.
Health and Safety Knowledge: Demonstrating a commitment to safety is paramount in the construction industry.
Remember that Dubai's construction sector is known for its innovation and ambition, so continuously upgrading your skills and staying up-to-date with industry trends can set you apart in this competitive market and help you get a job offer.
Job Search and Application Process
Finding Civil Engineering Jobs in Dubai
Job Portals and Recruitment Agencies: To find jobs in Dubai, explore popular job portals and connect with recruitment agencies that specialize in the construction industry. Websites like Indeed.com, jobs-in-dubai.com, Bayt, and naukri gulf are excellent resources for job seekers.
Online Job Boards: Many companies in Dubai post job openings on their official websites, and are also available in Dubai on indeed.com. Be sure to regularly check these platforms for the latest vacancies.
Applying for Jobs: To apply online for positions, make sure your resume highlights your relevant experience and skills. Tailor your cover letter to each job application to stand out to potential employers.
Networking: Attend industry events and job fairs in Dubai to network with professionals in the field. Building connections can open doors to job opportunities.
The Importance of Crafting a Strong CV and Cover Letter
Your CV and cover letter are your tickets to landing that coveted civil engineer position in Dubai. Make sure your CV showcases your skills, experiences, and qualifications, setting you apart from the competition. Tailor your resume to highlight your technical prowess, proficiency in tools like AutoCAD, and any relevant project successes.
Your cover letter, on the other hand, is your chance to narrate your story and explain why you're the perfect fit for the job. Use it to convey your passion for civil engineering and your eagerness to contribute to the UAE's dynamic construction industry.
Applying for Jobs Online: Tips for Success
Applying for civil engineering jobs online can be highly competitive, but with the right approach, you can stand out. Ensure your online applications are well-prepared and personalized for each job posting. Highlight your skills and experience working that directly align with the job requirements.
Don't forget to follow the applications. Many companies receive numerous submissions, and a polite follow-up email can demonstrate your enthusiasm and professionalism. Additionally, staying active on job portals, and consistently updating your profile and resume to reflect your latest achievements will help you find a job.
In your online job search, remember that persistence and attention to detail are your allies. The UAE's booming construction sector holds abundant opportunities, and by utilizing these tips, you can navigate the online job market with confidence and success.
Job Application Tips and Process
How to Research Companies Before Applying
Research the Company: Prior to applying for civil engineer jobs available in Dubai, thorough company research is vital
Company Websites: Visit the company's website for insights into their projects and values.
LinkedIn: Follow their LinkedIn page for updates on activities and developments.
Reviews: Use online reviews and employee feedback for a sense of their reputation.
News: Search for news articles and press releases related to their projects and achievements.
Networking: Connect with current or former employees on LinkedIn for insider insights.
The Hiring Process: From Application to Interview
The journey from submitting your application to acing the interview can be both exciting and nerve-wracking. Be prepared for multiple stages like
Job Application: The hiring process begins with job seekers searching for civil engineer positions on job portals or the company's official website. Applicants submit their CVs and cover letters online through these platforms.
CV Screening: Once applications are received, recruiters review CVs to assess candidates' qualifications, relevant experience, and skills. They look for expertise in areas such as AutoCAD and project management.
Technical Assessments: In some cases, candidates may be required to complete technical assessments or exams to evaluate their proficiency in software and problem-solving abilities. These assessments ensure that candidates meet the technical requirements of the position.
Interview Invitation: Shortlisted candidates are invited for interviews. The interview process may include multiple rounds, including initial screenings and panel interviews. Candidates should prepare for common interview questions related to their experience and skills.
Company Research: Prior to the interview, candidates are advised to research the company thoroughly. This includes understanding the company's projects, values, and reputation in the construction industry in Dubai and the UAE.
On-Site Interview: Depending on the company and the position, candidates may be asked to attend on-site interviews. This is an opportunity for candidates to interact with potential colleagues and assess the workplace environment.
Follow-Up: After the interview, candidates often send a thank-you email to express their appreciation and reiterate their interest in the position. This demonstrates professionalism and enthusiasm.
Job Offer: Successful candidates receive a job offer, which includes details about the role, salary, benefits, and other terms and conditions of employment.
Visa Processing: For expatriate hires, the company assists in obtaining the necessary work visa and permits to legally work in Dubai or the UAE.
Onboarding: Once the offer is accepted and visa formalities are completed, new hires undergo an onboarding process, which includes orientation and training.
Common Interview Questions for Civil Engineer Positions
As you step into the interview room, expect to be quizzed on your technical skills and problem-solving abilities. Here's a brief guide on how to answer common interview questions for civil engineer positions:
Tell us about your experience in civil engineering and relevant projects you've worked on.
Answer by providing a concise overview of your experience, emphasizing key projects and your role in them. Highlight achievements and outcomes.
How do you ensure compliance with safety standards on construction sites?
Describe your commitment to safety, mention specific safety protocols, and explain how you communicate and enforce safety measures.
Describe a challenging project you've managed. How did you overcome obstacles?
Share a brief account of the challenging project, highlighting obstacles, and focus on your problem-solving approach, teamwork, and outcomes.
What software and tools are you proficient in for civil engineering design and analysis?
List the relevant software and tools you're proficient in, and briefly explain how you use them for design, analysis, or project management.
How do you handle tight project deadlines and ensure project milestones are met?
Discuss your time management skills, resource allocation, and teamwork to meet deadlines. Emphasize effective communication and adaptability.
Discuss a time when you had to work in a diverse team. How did you contribute to the team's success?
Describe the diverse team experience, highlighting your contributions, such as fostering open communication, respecting different perspectives, and leveraging team strengths.
Explain your approach to sustainability and environmentally responsible engineering practices.
Discuss your commitment to sustainability, mentioning specific practices or initiatives you've implemented in previous roles.
What do you see as the most significant challenges facing the construction industry in Dubai, and how would you address them?
Identify a challenge (e.g., rapid growth) and propose a solution, focusing on quality control, efficient project management, and continuous professional development.
Why do you want to work for our company specifically, and what unique skills do you bring to our team?
Highlight your interest in the company's values and reputation. Explain how your unique skills align with the company's goals, emphasizing your potential contributions.
Remember to keep your answers concise, relevant, and tailored to the job and company you're interviewing for. Practice your responses to ensure clarity and confidence during the interview.
Conclusion: Discover Civil Engineering Opportunities and the Perks of Working in Dubai's High-Demand Job Market
Demand in Dubai for the construction industry offers abundant civil engineering job opportunities. From junior to senior roles, positions exist for all experience levels. Specialized roles like design engineers and CADD engineers diversify career paths. Competitive salaries, iconic projects like Burj Khalifa, and understanding the local job market are vital. Effective online applications and interviews, along with visa awareness, are keys to success. Speaking Arabic can be advantageous as Arabic is the official language.
In 2023, a civil engineering career in Dubai promises growth and the chance to shape the city's future through transformative projects.